We've said for a while that Penny Dreadful's plot comes well after its characters and atmosphere. But at this point, we suspect there's a Victorian singularity — a point beyond which you're actually too Victorian for your own good — and the show might be reaching it. Spoilers ahead...
It's a big statement, I know. In the face of the scene-level greatness of this show, I've hand-waved away a lot of plot holes. Vanessa's sigil somehow doesn't work? Well, her study was interrupted, it's fine. Evelyn could compel Vanessa at any time with the doll but hasn't, and also needs a doll of Malcolm? The former is the show's usual portenting (maybe her influence works slowly all by itself), and the latter is worth it if only because Satanic influence barely changes Malcolm's approach, and that's the kind of humor this show does best. When it comes to Penny Dreadful, sometimes you just have to sit back and hope those setups pan out.
But this season has also started to drop the ball, in weird ways.
In particular, why remind us all that Vanessa has the power of perception and then undercut it? Last ep she was surrounded by witches and didn't get the slightest tingle something was wrong (which the opening scene of this episode confirms, sadly, despite that amazing faceoff-pose from the ballroom). Has her doll been ordered not to notice? If so, we needed to see that, because it's important. The third episode was one of the best episodes of any TV show this year, but this arc feels as if it's undercutting it in favor of the big finish John Logan needs at the end of this season.
The Victorian serial has made a wonderful stylistic blueprint for the show: long flashbacks, epistolary episodes, some paid-by-the-word filler, and more portents than can ever come true. And there's plenty more in "Little Scorpion," which is the most unabashedly romantic (Romantic) hour of the series so far, and does not give one shit about making any sense.
But before we head to the moors to decide if this show is approaching the Victorian Serial Singularity (known colloquially as "the Varney"), let's check in on London, where amazing things happen.
G/O Media may get a commission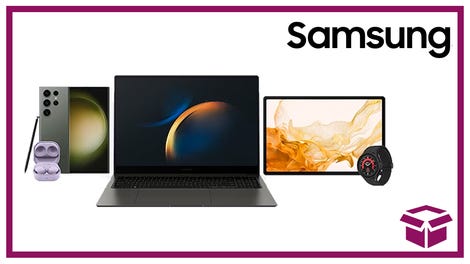 24 hour deals
Discover Samsung - Daily Deal
CREEPY PATRIARCH: VICTORIAN. Nothing more Gothic than a creepy patriarch who doesn't want lovely young ladies out of his sight no matter how often they faint during a vision of blood rain whose source she can't recall. "It wasn't female hysteria," she says at the episode's opening, hilariously setting a scene. His argument: "Can none of us trust one another??"
Not according to the shot framing, nope!
He's so blatantly obvious about discounting her concerns that even Victor is surprised: "Hold on. You don't credit Miss Ives' ability to sense things?" he asks, with childlike concern. I thought you and awkward quasi-Mom weren't going to fight any more!
But dangit, she's leaving town, and Ethan's coming with her because that Queen's not going to Huntsman herself. Lyle, trying harder than he ever has in his life to not look suspicious, suggests she not tell anyone where she's going. Just, for reasons. Generally.
Nailed it, Ferdinand.
But it does make sense for her to tell one person where she's going. Someone who cares deeply for her and has been a loyal guardian. Someone who's been at her side throughout her cursed life. Someone who wouldn't give in to Malcolm, who knows how to read a situation. Someone who could defend himself in the course of defending her. Of course, I'm talking about Victor.
(I KNOW, RIGHT?)
Like, it's charming that Victor knows she's not running FROM and is instead decamping TO, and I appreciate that her answer to Victor's "But what if Lily doesn't love me back?!" is to clap him on the shoulder and offer to buy him a beer because that's rough, buddy. But when we're thinking of people on this show who can hold up under pressure, Victor doesn't rocket to the top of the list. Honestly, the only reason for her confidant NOT to be Sembene is that Victor's going to crack, which is just another nail in the coffin of Vanessa's perceptive abilities. And the trick about Vanessa is that in order for her not to be a damsel, we have to believe she knows what she's doing. And like – Victor? Really? Oookay.
DUDE OF COLOR GIVING "EXOTIC, WISE" ADVICE TO A WHITE GUY: VICTORIAN.
This doesn't excuse it being here – if the show's interrogating the damsel trope, the Great White Hunter, and Frankenstein, it should be interrogating this, too – but it is, unfortunately, par for the course Victorianism to have a dude of color from an "exotic" locale explain to the white dude what the people of his country say about all those goings-on. It's not the first time this has happened, but it is the first time it's been quite so blatant. Even Ethan's uncomfortable.
ROMANTIC MOPING INTERRUPTED BY PORTENTS OF DOOM: VICTORIAN.
Totally Victorian, totally perfect. Victor, so far up his own ass he hasn't seen daylight in weeks: "What is love but a kind of creature waiting to be unbound? A malady. What does it bring any of us but confusion and bedevilment? "
Lyle:
The most '...can this wait, though?' expression from him so far, which is saying something.
I love whenever two people who might not like each other are working together. Last season it was Victor and Ethan under Malcolm's manipulative eye. This season, Lyle is not super thrilled that his only assistant is the second-whiniest guy in town. His Amunet and Amun-Ra discoveries are wasted! WASTED. World-ending symbolism of this shot? Unnoticed!
His Lupus Dei setup only registers because Victor feels similarly bedeviled. (I love what Logan can do in terms of characterization through dialogue. Lyle asks: "Why does the Scorpion sting?" Victor, eternal rationalizer: "To protect itself." Lyle, older and wiser: "To kill its enemies.")
A GENTLEMAN AND A LADY ALONE IN A SMALL HOUSE ON THE MOORS WHERE HE REFUSES TO TELL HER ANYTHING USEFUL RE: THEIR ACTUAL PREDICAMENT: SO VICTORIAN.
Victorian as heeeeell. He sleeps on the couch (the TV equivalent of Thomas Hardy-ing yourself outside because of chivalry)! He defers to her personal space enough to remain respectful while keeping protectively close! He cuts down the tree where the Cut-Wife was killed because Vanessa tells him she hates the sight of it.
Dang, show.
In the pilot, these two were positioned as a couple. It was a nice low-key surprise that over the course of the season they got close while having other romantic attachments; they knew they were endgame, but were in no hurry. And now, with time to work it out, they've reached a place that makes the most of their respective acting talents (her for unspeakable intensity – no one hates trees the way Vanessa Ives hates trees, and no one ever will – and him for repression), while inching both of them into something more unique. They're so comfortable they can wear kicky knits together! So comfortable they can chat about Malcolm's super-awkward place in her life ("For years now, Sir Malcolm and I have had a very private relationship. In a way, I think I savored that. The intensity of it.") or other relationships and be fine. "I felt a had a place to belong," he says of his relationship with Brona, then assures her Malcolm will come around to not being a jerk (somehow): "He won't forget about you; I certainly didn't."
(We'll never speak of this dreadful coat again, but I feel the way Ethan feels about it.)
They're assured of their places in one another's lives; their increasing intimacy has felt a lot slower-burning than the few months this timeline actually would be if we sat down and sketched it out. So while their dance lessons were predictably adorable ("It's the opposite of homicide") and their waltz music gorgeous, their fireside conversation felt more significant. This trust, not their attraction, has been their slow burn; they're both attracted to plenty of other people, but have trusted almost none of them. This is share-a-cigarette trust.
He tells an unheroic story that reveals his shitty childhood; she tells him she was afraid of dolls. (For the record, she has plenty of reason to have been afraid of her childhood dolls; look at that thing. Also, I see what you're doing here, show.)
They find a sort of summer-break glee in one another's company, with a domestic routine that clearly could work out indefinitely; she collects plants and he's charmed, they make soup and he oversalts it (beautiful callback), she learns how to shoot and he's besotted.
Poleaxed by Vanessa Ives: A Memoir.
But they also have an understanding of one another's dark sides, which is key. ("We are not like others; we have claws for a reason.") It's all nice stuff, though I wish Ethan would just tell her he's a damn werewolf already, because this Lupus Dei reveal is not going to be worth it when we're at the point where lying is going to hurt her more then help her.
And with all this intimacy and bullet-retrieving (during which he holds so still it is, for a moment, exactly like a hunting dog being asked to stand down from the quarry), things are about to get romantic.
MAKING OUT FURIOUSLY IN THE POURING RAIN AFTER PUTTING OUT A DEEPLY SYMBOLIC FIRE IN THE MIDDLE OF A DEEPLY SYMBOLIC STORM AND THEN BREAKING APART AND GASPING THAT YOU CAN'T POSSIBLY: VICTORIAN AS HELL.
How Victorian? So Victorian I laughed the entire first time through, and had to go back to hear what their reasoning was for not going for it. (Vanessa's the one who calls it off; Ethan listens because he's not a complete jerk.) Technically it was that they're "dangerous." Realistically?
Angsty moors action.
I do genuinely enjoy this tension; schmoopy mooning is not for these two. He's trying to protect her (TELL HER YOU'RE A WOLF), and he warns her enough about killing that we can guess where this is going. "You become something else. An animal that has to kill to survive." THANK YOU, ETHAN, NORMAL HUMAN MAN.
But for her it's not about listening to him or not so much as it's about what is worth turning her back on God for.
But here's where the problem is.
REVENGING YOURSELF ON A DASTARDLY NOBLE THAT THREATENED YOUR HONOR: TOTALLY VICTORIAN.
Ethan is ready to rip this guy's throat out with his hands. He does not care that the guy's hoping they'll give him a reason to gentry himself all over them and get that land back for his wife whose absence he hasn't seemed to notice. All we know is, when you roll up to Ethan Chandler and launch into a dog-related anecdote, you're about to get four-legged comeuppance.
"Thank you. I appreciate it. That Lupus Dei stuff is going to start paying off so big in eight minutes."
On the other hand, since this is Penny Dreadful, we know Vanessa will likely handle this herself.
...BY SELLING YOUR SOUL TO THE DEVIL USING A LAST-DITCH SPELL YOU SHOULD REALLY HAVE SAVED FOR THE WITCHES WHO ARE HUNTING YOU, ESPECIALLY SINCE ALL IT DID WAS MAKE THE DOGS ATTACK HIM AND YOUR BOYFRIEND SHOULD PROBABLY HAVE BEEN ABLE TO DO THAT GIVEN ALL HIS LUPINE FORESHADOWING: MAYBE TOO VICTORIAN.
Because why would you open this episode with a werewolf speech about how maybe this is a blessing you can use to protect people and then have a wolfy evening on the moors and then have a big bad-guy monologue about what his dogs will and won't do and then have Ethan implore Vanessa not to kill and run off to settle this...with a pistol?
Even Jerkbag McBastard doesn't get it.
It isn't that what Vanessa does particularly bothers me, either. I question her using the Dangerous Book, mostly because she's been so much more at peace here that whipping this out to kill a dude who doesn't even need dark magic to be killed feels like overkill, and burns up a season-finale option she could have used for her own protection. If I felt like this was building to something, this would bother me less – the hero's journey often requires them to use up all available options before they draw on that last internal resource to prevail. If I felt like this moment had more lead-up, instead of one mortal jerk, that would make this sacrifice a bigger showstopper.
Instead, here we are. Ethan is mad at her, though without knowing about the book, his anger sounds weirdly victim-blamey: "You'll never get your soul back, not ever." I mean, as far as Ethan knows, she killed a murderer with strong rapey overtones who threatened her life! She is in the clear! What is this condescending little-girl bullshit? We know better, but that's equally weird, since she's turned from God and doesn't seem particularly weighed down. (Why have her debate theology with John Clare if it wasn't going to be a callback when the time came?)
Their last fight is suitably bitter, though weirdly pitched; he accuses her of learning "how to kill babies," which is getting into Way Harsh Tai territory, but his speech about how it gets easier to kill once you start is one of Hartnett's better monologues. I love how it starts (above) and ends, with the body language of two people who are roommates in Hell:
"Welcome to the night, Vanessa." (We'll just leave it and not mention the miles of horrors she's walked through already to get here. For Ethan the suffering is all in the doing, and she clearly doesn't understand it; she's watched so many people get taken away while she stood helplessly by that selling your soul to get revenge might be a relief.)
I buy that this episode had to end with a murder, and I understand that in trying not to damsel Vanessa Logan made her burn her trump card on something that didn't need it, and I love this anger, but all this only works if you ignore the setups and the plot holes and take them as things the show will always pick up and put down. Sometimes I can! Sometimes, it's harder.
I recognize by now that one of the things at play here is that "The Nightcomers" was SUCH amazing TV that I'm holding the rest of the season to a standard it just might not be reaching; this episode in particular draws from that episode, and maybe that's why the little disconnects hit harder. There are great moments, but there are missed beats: casualties of the serial. And while that's unfortunate, I guess that's also pretty Victorian, too.
Not, however, as Victorian as this.
COMING BACK FROM THE DEAD WITH INSATIABLE SOCIALLY-UNACCEPTABLE APPETITES THAT CAN BE EXPRESSED ONLY THROUGH SENSUAL ACTS THAT END IN MURDER: MOST VICTORIAN THING POSSIBLE.
Was I disappointed when Lily decided to bang her captor/"cousin"? I was; I had been vocal about wanting her to just eat him. Was I baffled that we were getting into Dorian territory again? A little, sure, but I know we had to bring him back to the fold eventually, and giving Lily an excuse to get creepy is as good a reason as any.
That said, I'm not made of stone. This show is deliberately trying to give us an episode in which women will do anything they have to in order to take the world back from their oppressors. It's tied to their sexuality because so is a lot of their oppression. Vanessa and Ethan's attraction is in a sphere almost entirely removed from this rapey lord, so it isn't as though one had to do with the other (her problems with Ethan involve calling down the elements, good luck you two), but Vanessa was certainly going to be dealing with this dude again and again unless something was done. The way his actual death was handled was flawed, and the rest of the season will have to work hard to justify this whole Book thing to me, but her going after him makes sense in the abstract – she's lashing out however she can.
Which brings us to Lily. Lily's creation has been a patriarchal sleaze machine from its first moments, and her deciding to get back some of her own against an objectifying world comes not one moment too soon, and though it's so over the top we can see the curvature of the earth from here, I understand it.
It was hilarious that her date with Dorian was them discussing grave robbery for medical experimentation while Caliban peered at them from the shadows. (Caliban, call off this deal, come on, let your character arc actually bring you somewhere.)
And was it thrilling when she took a detour on her way home to bang and kill a random guy just because she felt like watching his life fade in her grip? You know it was.
That's an actual, literal house of cards in the foreground, by the way, in case you were wondering whether this moment meant things were about to fall apart. VICTORIANS.

And honestly, a woman's personal agency expressed through monstrous sexuality is so Victorian that this scene went a long way toward reassuring me this arc isn't just going to be about Victor and Caliban's matching garbage-human feelings about the woman they made. She's gonna turn that neck trick loose on one of them soon and it's going to be the penniest dreadful yet.