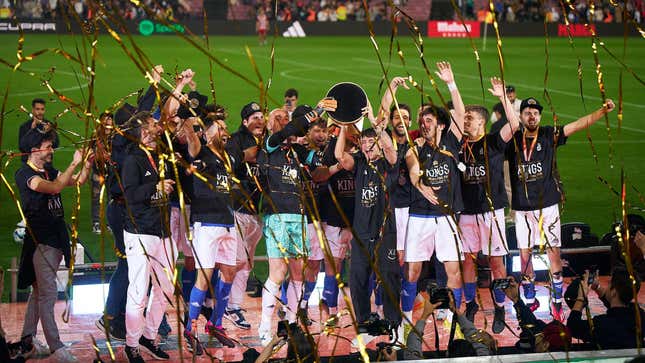 BARCELONA, Spain — Gerard Piqué's Kings League, a new soccer league that just three months ago debuted to jokes and scorn, came to a glorious, dramatic finish in FC Barcelona's famous Camp Nou stadium on Sunday. As Piqué handed the glittering gold trophy to the winner, Adri Contreras' "El Barrio," a perpetual underdog whose team was the only one without a sponsor, one thing became clear: The Kings League is here to stay.
Behind the Scenes at Gerard Piqué's Kings League Finals
A total of 92,522 spectators attended the Kings League's Final Four matchup and managed to sell out the stadium. Although the games between the four finalist teams were the main attraction, the Kings League seemed to take a page out of the American Super Bowl playbook for its show, which featured a rap battle, performances by top stars like Tiago PZK and Lali, and an attempt to break a Guinness World Record (spoiler: It pulled it off).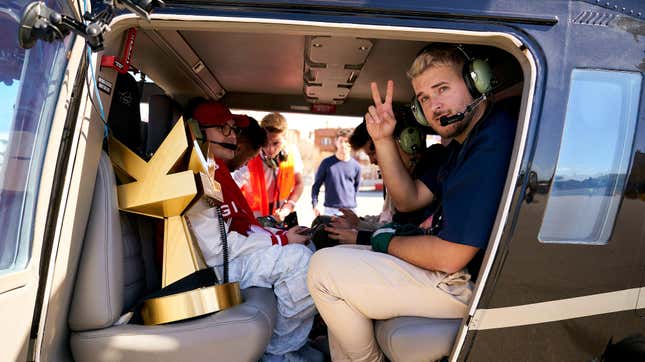 Piqué himself arrived to the stadium in a helicopter with the presidents of the finalist's teams—the streamers TheGrefg, Perxitaa and Juan Guarnizo along with TikToker Adri Contreras—in tow. After driving them to the stadium in a golf cart with the golden champion's cup, the former soccer player walked onto his old team's field and took his seat on a stage set up next to the field.
"There's nothing like seeing Camp Nou full. We are, for me, in the best stadium in the world," Piqué said. "There's nothing like a historic night at Camp Nou."
Behind the Scenes at Gerard Piqué's Kings League Finals
Behind the Scenes at Gerard Piqué's Kings League Finals
And historic it was. Sunday saw four teams face off against each other in a new type of indoor soccer of Piqué's design that's faster and more dramatic. In a nod to videogames, the Kings League includes "Secret Weapon" cards that let coaches take opposing players off the field or have goals count for two points instead of one. It also spices things up at the end of the first half by throwing a giant die on the field that removes a certain number of players from each team and leaves the rest to duke it out with reduced manpower.
All of the teams in the Kings League are headed by streamers or ex-professional soccer stars, including Twitch megastar Ibai Llanos and former Real Madrid goalkeeper Iker Casillas and Argentine striker Sergio "el Kun" Agüero. Their teams, meanwhile, feature a hodgepodge of players, many of whom have never played professional soccer.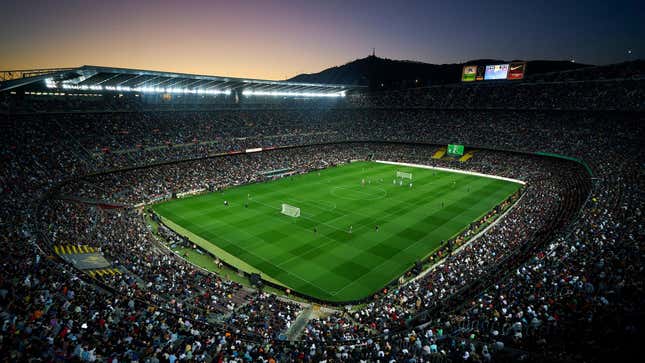 The unlikely combination has enamored audiences. Online, they turned out in the millions to watch the Final Four on Twitch, YouTube, and TikTok, which are the league's official platforms. (It broadcasts for free via streaming, unlike traditional soccer which is shown on paid TV.) More than 2.16 million people watched the event live at one point, breaking the league's previous record, and an average of 1.38 million tuned in for the nearly seven hour stream.
In person, fans traveled from across Spain and around the world to watch the Kings League finals at Camp Nou. On the way to the stadium, Gizmodo's taxi driver marveled at the crowds snaked around the stadium and stated that he thought FC Barcelona might be playing. FC Barcelona's official store at Camp Nou, which was selling Kings League t-shirts and soccer scarves, was overflowing with people, with merch from teams like Ibai's "Porcinos" (or "swine" in English) and DjMaRiiO's "Ultimate Móstoles" sold out by midday.
José and Esther, a young couple who declined to give their last names for privacy reasons, came to Barcelona from Zaragoza, which is three hours away. Draped in scarves supporting their favorite teams, Ibai's Porcinos and Saiyans, TheGrefg's team, the couple said they had come to the city for the day and were heading back home because they had to work tomorrow. While José remarked that Piqué had done a good job with the league and that all the teams were good, Esther said the tournament's novelty had caught her eye.
"I like it because it's different. I don't watch traditional soccer at all," she said.
José, meanwhile, stated that the Kings League had become a competitor for traditional soccer.
"Traditional soccer has become very monotone," he said.
There was notably nothing monotone about the finals at Camp Nou. After two grueling semifinals that knocked out Perxitaa's "Troncos" (which can mean either "tree trunks" or "the dudes") and TheGrefg's "Saiyans," the regular season's heavyweights and favorites, the league's two underdogs faced off on the field. In the final game, Adri Contreras' "El Barrio" (or "the neighborhood") delivered a resounding 3-0 victory over Juan Guarnizo's "Aniquiladores" ("annihilators").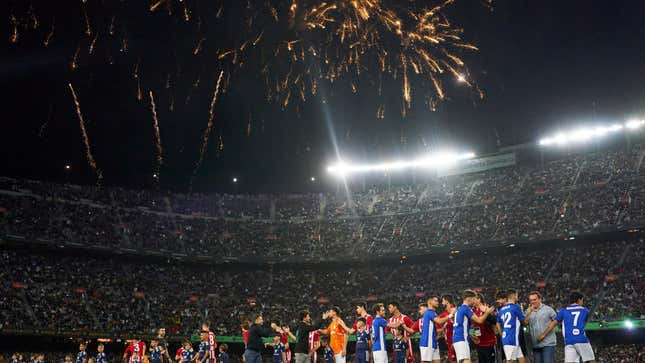 The crowd roared. Adri Contreras, one of the smallest creators in the Kings League in both stature and audience, and his team had won. In a way, it was a fitting end. Like the Kings League in its debut three months ago, no one thought Contreras had a chance against the giants of streaming or soccer. But he and his team valiantly pushed through, proving them all wrong and changing their own lives in the process.
In a press conference before the Final Four on Saturday, Gizmodo asked Piqué what he would say to those who criticized the Kings League and doubted that it could succeed. The former soccer player replied that he hadn't been surprised by the criticism and that he was very proud of the product he had created. They had done the best they could, he explained, and the results spoke for themselves.
"Right now, we're here in Camp Nou," Piqué said. "Tomorrow, we'll be in front of 91,000 people. I think that this more than enough to make all of the people who doubted us eat their words."