This week at Lifehacker: Don't pay for video at the iTunes Music Store - subscribe to free, del.icio.us video in iTunes. Create your own own iPod videos. Or forget the White Status Symbol of Apple Cult Membership, and watch your video to go on a big screen PocketPC. Of course, if you do decide to pay the man, be sure to give an iTune as a gift. Also: power texting tips for the SMS-happy, and how to make the four biggest search engines bend to your will with the top 20 search helpers.

Now that iTunes supports "vodcasting" - video podcasting - and social bookmarks manager del.icio.us supports filetypes, you can subscribe to movie files bookmarked in del.icio.us right in iTunes. With a little URL hacking with custom tags (want .mov's tagged "funny"? "movie trailer"? "girls," you pervert?) you can get free video surprises downloaded right into iTunes every day.
G/O Media may get a commission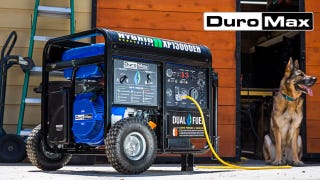 Black Friday Sale
DuroMax Generator Sale
If Steve Jobs the Snake Charmer got you to run out and pick up your very own video iPod, check out this tutorial on creating your own iPod videos. No doubt a home video of your kitten batting at some yarn'll score some points on a first date.
Of course you could always resist the temptation of the Great White Music and Video player watch video on the go with a less sexy but more functional PocketPC.
However, if the draw of the iTunes Music Store does break you down, be sure to suck your friends and family in as well. Give an iTune or an iTMS video as a gift right inside iTunes.
Did the gagillion text messages in your mobile phone plan go unused last month? Point your clicker at a few power texting tips for the newbie and experienced thumber alike.
Finally, the search engine operators that will make Google, Yahoo, MSN and Ask Jeeves return exactly what it is you're looking for. Demand only the finest-crafted queries: dig up exactly the information you need from the darkest, loneliest corners of the Web with our top 20 search helpers.
Lifehacker's Power User column appears every Wednesday on Gizmodo.