This week at Lifehacker: Get the most out of your video iPod. Buy the best quality recordable DVDs. Cube warriors, firewall your attention at the office. Fold up a pen and stick it in your wallet. Finally, remedy LCD screen burn-in.
So you got yourself a shiny new video iPod over the holidays. Know how to use it? Subscribe to free video content, play movies and TV on the big screen with cables lying around the house, compress and save your own home movies. In short, get the most out of your new 'pod.
G/O Media may get a commission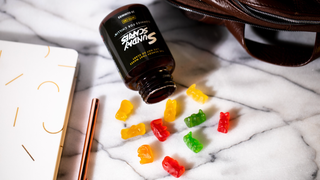 10mg CBD Gummies (22-Count)
Ever go cheap and wind up with a spindle of DVD-Rs that don't burn or wind up unreadable? Check out this guide to high quality recordable DVDRs to avoid a stack of shiny drink coasters.
"Corporate accounts! Nina speaking! Just a moment!" When every day is a case of the Mondays at your cubicle job where constant interruptions keep you from getting a thing done, take our advice on how to firewall your attention at the office.
Need a pen? Oh, look! Here's one all folded up in my wallet. Get your brilliant ideas down on paper wherever you are with a foldable wallet pen.
When the ghost of your login screen burns into your LCD monitor and haunts you while you're working in other programs, Apple's got a little tutorial on getting rid of the little bugger and avoiding it in the future.
Lifehacker's Power User column appears every Wednesday on Gizmodo.