This week at Lifehacker: Decide when to trash your old PC and when to upgrade. Be a walking encyclopedia - literally - with Wikipedia on your iPod. Build yourself a booty-hiding secret hollow book. Finally, smack down that annoying Windows error report dialog that pops up whenever software crashes for good.
You want a new PC. Your old one still has life left in it. What to do? A little RAM, a new hard drive and a Windows reinstall could do wonders, or it might be time to throw in the towel and invest in a newer model. With Vista looming on the horizon, decide whether or not you should be dropping a new compie in your shopping cart — or just a few new parts.
G/O Media may get a commission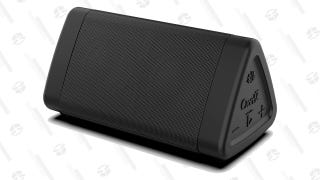 Save 31%
Oontz Angle 3 Portable Bluetooth Speaker
You've wasted away hours reading about Star Trek on Wikipedia while you're at your computer. Now you can do it on the go! Download the 750MB Encyclopodia onto your iPod as an ebook for research while you're waiting on line at the grocery. Just think, you could listen to the Star Trek theme at the same time...!

Got something to hide? Something that would fit inside a book? Be it porn, drugs, money or the earring your high school crush dropped in gym class, everyone needs a secret hollowed-out book in their library. Get thee out the Exacto knife and some glue, because we've got the linkage on how get your stuff into hiding the DIY way.
You know when you're working in a software application and it suddenly crashes, and you're pretty tweaked that you just lost a bunch of unsaved changes to your files? Then to make things worse, a dialog box appears, asking if you'd like to send Microsoft a bunch of data about the crash from your computer, and that just pisses you off even more? Stop letting Windows kick you when you're down and disable error reporting for good.
Lifehacker's Power User column appears every Wednesday on Gizmodo.