We may earn a commission from links on this page.
Considering it's called Glass, it's no surprise Samuel L. Jackson sees the upcoming film as the ultimate wish fulfillment for his sinister supervillain character of the same name.
Recent Video
This browser does not support the video element.
"All of a sudden, my character has the thing he wanted: the heroic good guy, the bad guy, and I get to be in the middle of them," Jackson told Vulture about the 2019 film, which is being written and directed by M. Night Shyalaman. "It has a distinct satisfaction if you remember what his theory was all along, that there are people out here with extraordinary powers who can do extraordinary things. And it's amazing to watch James [McAvoy] have an argument with four different characters in front of my face."
To recap, audiences were first introduced to Jackson's character, Mr. Glass, in the 2000 film Unbreakable, also written and directed by Shyamalan. In the film, the character orchestrates a series of horrific tragedies hoping to prove his disability, which makes his bones severely fragile, isn't a mistake. He does just that by finding David Dunn, played by Bruce Willis, a man who can't be hurt. The two are polar opposites and, Glass thinks, destined to be mortal enemies. He's then sent to an institution for the criminally insane.
G/O Media may get a commission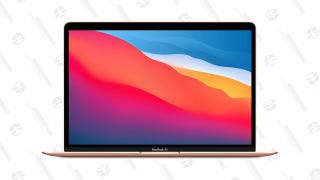 20% off
Apple MacBook Air Laptop
To viewers' surprise, the story continued in the 2017 film Split, where another person with superhuman abilities, played by James McAvoy, was revealed to be in the same universe as Glass and David. So, in Glass, audiences will finally see those both stories come together in an intriguing way.
As Jackson suggested, Glass starts with not just Mr. Glass in an institution, but also David Dunn and James McAvoy's character from Split. They're together in the same room being studied because the three of them actually "believe" they are superheroes in a realistic world. And the world has made them outcasts. Where things go from there, we can't be quite sure (though you can read more about the first footage from the film here). But we do know that the situation, while certainly dire, makes Mr. Glass happy.
Jackson can now be seen in Incredibles 2 and, briefly, in Avengers: Infinity War. He's currently shooting Captain Marvel for release next year, and Glass will be out January 18.

[Vulture]