To prevent the spread of infectious diseases, Prime Minister Malcolm Turnbull of Australia is pushing its states and territories to adopt measures that would prevent unvaccinated children from attending childcare centers. Sounds harsh, but experts say it's a good idea—one that'll hopefully prevent the spread of infectious diseases.
In a letter issued late last week, the Prime Minister asked the country's premiers and chief ministers to take a firm stance on the vaccination issue. The strategy is being lauded by Australia's ruling government and even the country's opposition party. Importantly, it has the backing of the medical community as well.

Around five percent of all Australian children are unvaccinated, prompting concerns that so-called "herd immunity" has been, or soon will be, compromised, whereby there aren't enough immunized people in the population to prevent outbreaks. The PM says progress has been made, and that vaccination rates appear to be on the rise, but he says Australia can do better.
In 1999, a mere 73.6 percent of Australian children between the ages of 24 and 27 months were fully immunized, the lowest level in 17 years. Much of this trend was fueled by the disingenuously named Australian Vaccination Network, which claimed (falsely) that vaccinations were linked to autism. Vaccination rates have recovered since then, hitting 92.2 percent in 2015, but that's still not enough to stop the spread of infectious diseases.
G/O Media may get a commission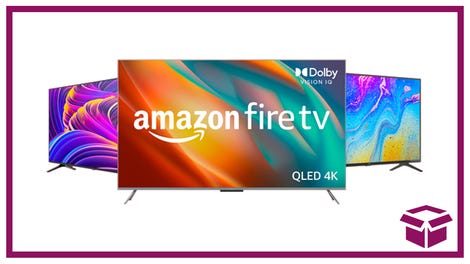 Ooh. stunning.
New Amazon Fire TVs
"We believe we can take it further than that—this has got to be a concerted national effort by all governments to ensure all our children can be vaccinated," wrote Turnbull in his letter. "No jab, no pay, no play." By "no pay" the PM is referring to the withholding of child-related tax benefits. The policy is supported by most Australian parents, the Australian Medical Association, and Early Childhood Australia.
Some Australian provinces, namely Queensland, New South Wales, and Victoria, have already adopted the no-daycare policy for unvaccinated children, but the federal government would like to see the law implemented nationwide. As it stands, unvaccinated children can still attend daycares in the Northern Territory, Australian Capital, South Australia, Western Australia, and Tasmania.
In regions where the ban has been implemented, kids need to be either fully immunized to attend daycare, or be placed in a recognized catch-up schedule. (Standard vaccinations include Hepatitis B, Measles, Mumps, Rubella, and Varicella.) Vaccinations are free for children under the age of 19, and families who object to immunizations on religious or non-medical grounds are not exempt from these requirements.
"[Getting the entire country on board] matters because it's protecting children...against mumps and measles and shingles and whooping cough and conditions that can lead to agony or, as we see, real tragedies," stated Federal Health Minister Greg Hunt on Australian television. "It's our duty as a government to try to protect every child, and there should be no barrier to any parent adopting this measure...if we don't do this we put innocent children...at risk."
In a recent poll of Australians, one in three said they were concerned about vaccinations, and around 10 percent said vaccinations cause autism—this despite no causal link being found to exist. In 2010, the science journal Lancet retracted a controversial 1998 study linking vaccines to autism, but the influence of this discredited paper has spiralled out of control.
Australia's strategy may sound coercive and heavy handed, but Natasha Crowcroft, Chief of Applied Immunization Research at Public Health Ontario, says the Aussies are simply trying to protect a particularly vulnerable group.
"If you're going to put your kid in daycare, you expect them to be safe there," Crowcroft told Gizmodo. "If they're going to be put in harm's way because another parent has unjustifiably not gotten their kids vaccinated, then that's just not a reasonable situation to be in." Indeed, many kids put into daycare are still in the process of getting immunized, are are vulnerable to diseases like measles. But as Crowcroft pointed out, these children are vulnerable for other reasons as well. Compared with adults, small children generally have worse outcomes for some of the infections vaccinations prevent, developing secondary conditions such as pneumonia and encephalitis.
Immunologist Earl Brown, an Emeritus Professor of Virology at the University of Ottawa, believes the Australian policy is a step in the right direction, but admits that challenges remain.

"This approach will increase vaccination rates which will improve disease resistance of the Australian population, but the anti-vaccine lobby has many converts who will remain reluctant to vaccinate," Brown told Gizmodo. "The reduction in vaccine coverage is becoming a factor in the re-emergence of outbreaks for measles and mumps and whooping cough. Measles and mumps need around 90 percent of the population to be immune to confer 'herd immunity' that effectively stops transmission of these diseases."
Crowcroft says the tide is turning on anti-vaxxers, and that parents who are pro-immunizing are beginning to realize that it's not okay for other parents to have the choice to not vaccinate their kids.
"We don't choose [to stop at] traffic lights," says Crowcroft. "We all have to stop on red. It's not like an individual choice where we say, 'Oh, I think I'll stop on red,' because if you go through that red light you don't just put yourself at risk—you're putting someone else at risk. It's the same thing with immunization."
In Ontario, the provincial government has taken a different approach, threatening to send anti-vaxxers to a mandatory education session. Crowcroft says this isn't really about education. "I don't know that educating parents is the model for success in this regard," she said. "It's becoming clearer and clearer that trying to educate people with a certain world view doesn't change that world view."
She may be right; as work by the University of Sheffield cognitive scientist Tom Stafford has shown, throwing science at anti-vaxxers just makes them more hardline. Perhaps a heavy-handed approach is exactly what's required in this situation.
"Some will argue that it is an individual rights or freedom issue, but in countries with tax funded health care—such as Australia—this argument loses some weight because the system ultimately cares for your diseases," says Brown. "Your decision to vaccinate has personal rights aspects but does conflict with collective health maintenance."
It'll be interesting to see how Australia responds to these measures, and if vaccination rates increase as a result. It'll be up to each state and territory to make that decision for itself. Needless to say, other countries will be watching.
[ABC.net]