The Brooklyn Bridge was an awesome feat of engineering that required not just scientific prowess, but political strength. For 14 years, the construction of the bridge was overseen and managed by a woman named Emily Warren Roebling, who took over the role as chief engineer after her husband fell ill.
Roebling is one of the women featured in the new book Women of Steel and Stone: 22 Inspirational Architects, Engineers, and Landscape Designers by Anna M. Lewis, which explores the history of women working in traditionally male-dominated fields.
Beginning with the changing cultural sentiments that allowed females to seek work in the construction industry during the Industrial Revolution, Lewis traces how women excelled in many of these new roles, playing an important part in projects across the country.
Even today, the industry is far from perfect—there is still controversy surrounding the fact that women are not being equally recognized for their contributions. But by telling the stories behind these talented personalities, Lewis not only gives insight into the careers of these pioneering women, she also delivers 22 role models for girls interested in science and math.
G/O Media may get a commission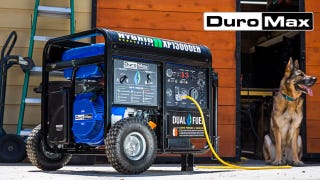 Black Friday Sale
DuroMax Generator Sale
Here are six women who changed the landscape of the design industry while they worked to transform the built environment.
---
Margaret Ingels
Because there was no architecture school at the University of Kentucky, Margaret Ingels studied engineering at the suggestion of professor, and became the first woman to receive a graduate degree in mechanical engineering in the country. She worked across a wide range of emerging technologies at the time, including at the Chicago Telephone Company and the United States Bureau of Mines.
But an early fascination with air conditioning—not a prevalent technology in the early 1900s!—led her to Carrier Lyle Heating and Ventilation Corporation, where she helped develop the Anderson-Armspach dust determinator, which became the industry standard for air filtration, as well as the sling psychrometer, which measures air humidity and is still used today. She was well-known for her lectures and traveled across the country to deliver them, including one entitled "Petticoats and Slide Rules."
---
Ellen Biddle Shipman
Although she had always designed small projects including her own home's grounds, Ellen Biddle Shipman's career truly began after her divorce, when she was forced to support herself. Shipman started by collaborating with an old friend, architect Charles Platt, who asked one of his assistants to teach her to create architectural drawings. She soon had clients all over the country with big names like Ford, Astor, and DuPont, and opened her own office in New York City, where she only hired women designers.
Called the Dean of American Landscape Architecture, Shipman was very much responsible for transforming the role of women in the industry from "gardening" to "landscape architecture." She was known for her formal gardens like the Henry W. Longfellow Place in Cambridge, Massachusetts (above), but also for her social focus, advocating for public space and victory gardens during World War I.
---
Emily Warren Roebling
Marrying into a family of engineers was fortuitous for Emily Warren: Her husband was Washington Roebling, a civil engineer, and father-in-law was John A. Roebling, who developed the revolutionary design for the Brooklyn Bridge. Emily and Washington traveled together to Paris to study the possibility of using caissons on the Brooklyn Bridge, a new technology that used pressurized chambers to allow workers to install bridge pilings underwater. John contracted tetanus after he crushed his foot during construction, and Washington took over as chief engineer—but Washington, sadly, succumbed to the very technology he championed, getting decompression sickness and staying bedridden during the final phase of construction.
For 14 years, Emily acted as chief engineer on the project while fighting to ensure that Washington did not lose credit for his work. In 1883, she was the first person to cross the finished Brooklyn Bridge in a carriage.
---
Aine Brazil
As vice chairman of the engineering firm Thornton Tomasetti, Aine Brazil has been responsible for overseeing groundbreaking methods that have allowed some of the world's tallest and most unique buildings and infrastructure projects to be constructed.
The Irish native worked at engineering firm Arup before starting at Thornton Tomasetti, where she was the lead structural engineer for 11 Times Square, a game-changing skyscraper for the Midtown neighborhood. Brazil is currently working on the Hudson Yards development, which will use a concrete "apron" to float six city blocks over a train yard.
---
Julia Morgan
Armed with both a civil engineering degree and an architecture degree, Morgan became one of the most prolific and financially successful architects of her time. Although best known for her decades of work on Hearst Castle (above), the sprawling estate of newspaper magnate William Randolph Hearst, Morgan designed 700 buildings throughout her career, including dozens of YWCA buildings. She also developed building methods which used reinforced concrete, a revolutionary material at the time, which helped her to gain clients in earthquake-prone California.
---
Marion Mahony Griffin
One of the first female licensed architects in the U.S., Marion Mahony Griffin was also a talented artist—which is why legendary architect Frank Lloyd Wright hired her as his first employee in 1895. Griffin designed stained glass panels and decorative furniture pieces as well as buildings, but she used her artistic prowess to help transform the field of architectural drafting. Through gorgeous watercolor renderings of potential projects, Griffin developed a signature drawing style which Wright became known for and turned his architectural renderings into art.
Many times, her drafting work was considered to be instrumental in winning projects. Later she married architect Walter Burley Griffin and they worked together for 28 years.
All images courtesy Women of Steel and Stone