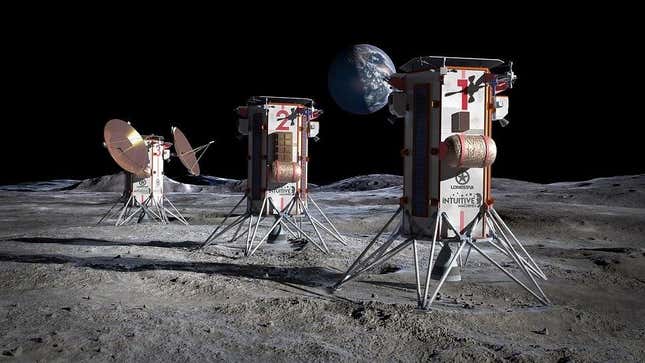 Unprecedented access to space is leading to all sorts of cool new ideas, including the prospect of storing data on the lunar surface. Cloud computing startup Lonestar Data Holdings announced the results of its latest funding round, taking it one step closer to this very goal.
The Florida-based company raised $5 million in seed funding to establish lunar data centers, Lonestar announced in a press release on Monday. Lonestar wants to build a series of data centers on the Moon and establish a viable platform for data storage and edge processing (i.e. the practice of processing data near the source, as a means to reduce latency and improve bandwidth) on the lunar surface.

"Data is the greatest currency created by the human race," Chris Stott, founder of Lonestar, said in an April 2022 statement. "We are dependent upon it for nearly everything we do and it is too important to us as a species to store in Earth's ever more fragile biosphere. Earth's largest satellite, our Moon, represents the ideal place to safely store our future."
Data centers are made up of connected servers that store and transfer digital data. The growing number of data centers on Earth pose a threat to the environment, contributing to energy consumption and digital pollution. Building data centers on the Moon could alleviate this problem, in addition to providing a more secure way to store the data.
In December 2021, Lonestar successfully ran a test of its data center on board the International Space Station. The company is now ready to launch a small data center box to the lunar surface later this year as part of Intuitive Machines's second lunar mission, IM-2 (the company's first mission, IM-1, is expected to launch in June). Intuitive Machines is receiving funding from NASA's Commercial Lunar Payload Services program for delivering research projects to the Moon as part of the space agency's Artemis program.
The lunar data centers will initially be geared towards remote data storage and disaster recovery, allowing companies to back up their data and store it on the Moon. In addition, the data centers could assist with both commercial and private ventures to the lunar environment.
The miniature data center weighs about 2 pounds (1 kilogram) and has a capacity of 16 terabytes, Stott told SpaceNews. He said the first data center will draw power and communications from the lander, but the ones that will follow (pending its success) will be standalone data centers that the company hopes to deploy on the lunar surface by 2026. The test is only supposed to last for the duration of the IM-2 mission, which is expected to be around 11-14 days, an Intuitive Machines spokesperson told SpaceNews.

"We believe that expanding the world's economy to encompass the Moon, which happens to be the Earth's most stable satellite, is the next whitespace in the New Space Economy," Brad Harrison, founder and managing partner of Scout Ventures, which led the recent funding round, explained in Monday's statement. "Data security and storage will be a necessary part of leading the new generation of lunar exploration."
More: Lunar Lander Travels Deeper Into Space Than Any Other Commercial Spacecraft