Apple Tablet? Microsoft Courier? Pshaw, I'll Take eviGroup...Like Peter Cetera, It's Hard for CNBC To Say "I'm Sorry"...Verizon to Apple: "Please Baby, Come Back, I'll Do Anything!"...Microsoft's Apple Store Copycatting Conspiracy Gets Creepier

Hey, why save up for the Apple Tablet or Microsoft Courier when you can have eviGroup's Pad? It's kinda chunky, costs over $500 and runs, atop Windows 7, an artificial-intelligence man-lady widget known as Seline10. Don't be afraid that the only pictures of this sucker are renderings, or that it's probably not even going to sell in the USA. Just know that no matter what happens, it's bound to suddenly eclipse both—not to mention all other—tablets, in terms of sales and buzz. On second thought, maybe we'll just forget about this and keep waiting for the real McCoys. [Engadget]

Jim Goldman, a newscaster more famous in the bloggyverse for mistakes and total BS than he is for any act of conscious journalism, made Microsoft's stock take a momentary plummet when he read a statement from their quarterly report inaccurately. Surely he wasn't doing this to turn some short-happy day trader into Rico Suave, but it was a clear misinterpretation by either him or someone on his team. Did he admit he or his network made a mistake? Nope. Did they issue a correction, as most or all of us who have worked in any form of journalism have had to do from time to time? Nope. He instead made a "clarification," one that righted the stock to the chagrin of said would-be Sr. Suave.
I don't care, honestly, if someone makes a mistake on live TV, and it certainly wasn't worth posting as "news" on Giz. I am just sick and tired of people thinking there's something unmanly about saying you're sorry for effing up. I had my own run-in with that attitude last week, and I'll be honest, you people got it all wrong: The act of apologizing for a mistake shows you've got nothing to hide downtown, if you know what I mean. On that note, I'm sorry for climbing on my soap box. [Silicon Alley Insider]
G/O Media may get a commission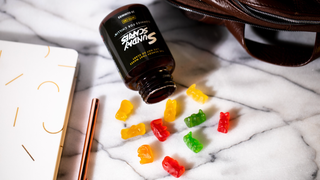 10mg CBD Gummies (22-Count)

One of the hottest non-news items of the day was Verizon's CEO, Ivan Seidenberg, saying how much he'd like a bite of the Apple:
Obviously we would be interested if they thought it would make sense for them to have us as a partner. And so we will leave it with them on that score….We want to broaden the base of choice for customers, and hopefully along the way, Apple, as well as others, will decide to jump on the bandwagon.
While this is obvious and doesn't change a thing, it was probably pretty upsetting to Verizon Wireless CEO Lowell McAdam in the week or so following his launch of the iDon't anti-iPhone campaign. [AllThingsD; original image from CNet]

We all knew that Microsoft borrowed Apple Store talent in order to get its own high-end retail initiative off the ground, but Engadget pointed out a delightful little detail—too small for its own post—that furthers the conspiracy. A sales manager, featured in the background of a video with Bono and Oprah from back when Product RED iPods launched in July 2007, suddenly reappears a few days ago handing out Zunes at the Scottsdale store opening. Hey, at least they're Zune HDs. [Engadget]