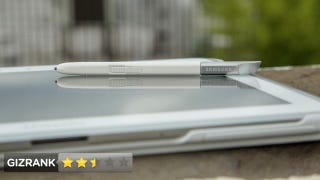 The Galaxy Note was, just a wee bit big to be considered a phone. Why not make it bigger and call it a straight-up tablet? Add on some Wacom stylus tech, bump up the specs—be our guest!
BGR is reporting that the regional court in Düsseldorf is partially lifting the ban that allowed Apple to block Samsung from selling their popular Galaxy Tab 10.1 in the European Union. It is still banned in Germany, pending Samsung's appeal.
Apple's been granted a preliminary injunction to stop sales of Samsung's Galaxy Tab 10.1 across the entire European Union on the basis of patent infringement. The ban excludes the Netherlands, where Apple has a separate lawsuit pending due to differences in patent law.
LG keeps trying to blind the world with their latest models, even when they are not holding phones. This one is holding some kind of Stargate pyramid model made of aluminum, the LG HT752TP. Their latest home theater comes with HDMI, DivX compatibility, electrostatic buttons guaranteed to drive you mad, a USB host port…
Inspired by the killed-just-as-it-was-getting-good series Enterprise, this casemod is probably the most orange thing we've seen this side of Half-Life 2. It features external hard disks, crazy paneling, custom acrylic, and hours and hours of time that would have been spent playing Dungeons and Dragons Online.