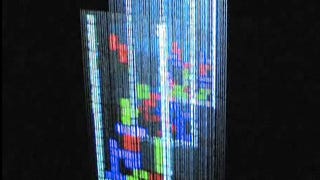 Click to viewWaterfalls have never been this much fun. Sheets of cascading droplets have been turned into a multilayered computer display, suitable for playing Tetris in 3D.
Kind of similar to a Tenori-On, this interactive 3D display would look great in my house, connected to my home audio set-up, visually illustrating every song with popped-out pixels.
Similar to Mitsubishi's 155-inch OLED screen, Sony's huge display is made of individual panels (70 smaller LED screens in this case) and is designed for outdoor marketing. You know, because we all carry around polarized glasses, right?
Imagine one-upping Adam Frucci by posing with a 180-inch screen... that displays 3D! NewSight could give you a chance with their new gargantuan 3D video wall. Sadly, it uses LEDs for pixels, making the resolution all Monet-like.
The term "word's first" gets thrown around a lot with gadget releases, but with kooky creative phone maker KDDI behind the project, I'm a lot less skeptical about the claim that they have developed the first 3D cellphone screen. You can't get the full effect from the images here, but it appears that this prototype…
Seiko Epson has designed a new glasses-free display that really has the potential to bring 3D-displays to cellphones and PMPs sooner rather than later. It's a bit similar to the old kid's classic lenticular images (you know: they come with a lined plastic face, and when you twist them you see a changing picture,) and…