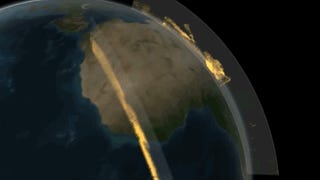 Using satellite data, NASA scientists have created the first-ever 3D model showing just how much dust makes its way from the Saharan Desert to the Amazon forest. Incredibly, this dust is seeding the rain forest with an essential nutrient, an indication of just how interconnected these disparate regions really are.
This is awesome: Patricio Gonzalez Vivo found a way to scrape Google Street View for its depth map data, then rebuilt the streets as ghostly spatial models in openFrameworks. The weird and flickering results, seen in the video above, are like a holograph dreaming of electric streets, with facades and sidewalks tuning…
In some ways Oblivion is pretty standard. Alien war. Last humans on earth. Tom Cruise. Etc. But the movie, out this weekend, has something else going for it: a stunning backdrop for all the hunting and sleuthing.
Even if your skin resembles a dewy peach more than Daniel-Craig-as-Mikael-Blomkvist, be worried: Microsoft's 3D modeling is the most advanced ever built; capable of showing every wrinkle in your face. Naturally, it could be added to Kinect in the future.
This could be the most important design advancement in years. Not since the Pantone color-capturer have you been able to preserve something from your travels and recreate it at home as a 3D model. Hook up a 3D printer, and...
What happens when you take a 3D model of one of the sleekest, sexiest designs in the world, then lower the resolution until it's barely recognizable? In this case, you turn a Lamborghini Countach into an onyx slab.
I am sorry to report that the latest profession to be made obsolete by robots is ice sculpting. Cold-hearted explanation follows:
Not to turn this into a secondary job board for Apple or anything, but they're opening up a position for a digital 3D modeler/CAD sculptor to create renderings of possible and future products. It's interesting because the turnover there for the position is really low, and it may be the only time you get a chance to…