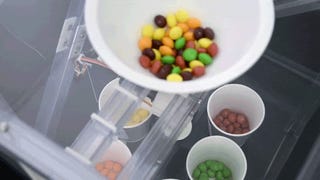 Here's a question I'm not sure I want to know the answer for: if Skittles and M&M's came in individual packets for each flavor, would I combine them and eat them like how I do now (in a pile shoved into my mouth) or would I keep the flavors separate and enjoy them on their own? They might be better on their own.
In a statement to TechCrunch that was conspicuously devoid of live-tweeting, helicopter chases or any underwater components, Kim Dotcom announced that he has instructed the Mega staff to delete any public copies of the blueprints for this week's fully 3D-printable gun.
I don't even drink beer, but what I wouldn't give for one of these 3D-printed beer cases that were gifted to Heineken's stakeholders. With the bottle's label printed in UV-sensitive ink, it only figures that the case (3D-printed by Freedom of Creation) should have a UV light installed inside, activated once the case's…
We've seen all sorts of objects printed from 3D printers, but the European Areospace and Defence group (EADS) has shown off the first bike made from nylon—which they're saying could replace traditional steel and aluminium bikes due to the affordable method it's created.