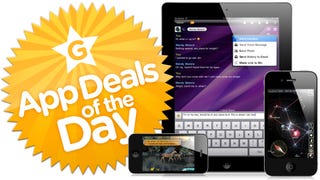 Chatting with all your friends on your phone usually can mean switching between five IM clients at once. Well, today you can save a few bucks by chatting in the one IM client to rule them… okay, sorry about that. Plus: keep an eye on the stars for free and go hunting for Bambi and all his woodland friends. I hear…
Like we weren't excited about the Galaxy Nexus enough already. The crew at AnandTech has been busily benchmarking Android's new flagship against Apple's top performer. The results? The Galaxy Nexus is the new king of the hill in some key areas.
All those problems with evaporating iPhone batteries? Looks like it's not the hardware's fault—Apple's 'fessing up to a buggy iOS 5 release that's sucking more juice than it should, The Loop reports.
You might have noticed your new iPhone lasts about as long as Kim Kardashian's marriage—and what's the point of nifty new features if your phone's dead? Use these tweaks to squeeze the most life out of your battery.
You could soon have your own personal nuclear reactor, in your basement next to the hot-water heater and your washer/dryer. Here's a scale model of the Toshiba 4-S personal reactor, which is advertised as "super-safe, small and simple." Click through for a diagram showing how it would look in your home.