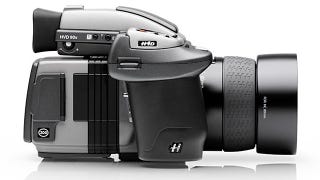 Hasselblad one-upped itself again with the H4D-200MS camera, a 200 megapixel monster that hit the market with a whopping $45,000 price tag.
Kogoro Kurata's invention only runs at 3 kilometers per hour, but who cares. It's red, it has treads, it can destroy stuff. That's all that matters to me. Better than Transformers 2 for sure. [Ironwork via Pink Tentacle]
The official Playstation blog has dropped details of the upcoming PS3 2.50 firmware update, which finally includes an auto shut-down power saving feature for connected wireless controllers and the console itself. The update will also include a high-quality mode for the official Bluetooth headset, scene search stills…
Garmin has just announced a new member of the Nuvi GPS range, the 500 series. In a first for Nuvi, the rugged, waterproof 500 units are specifically designed to be multipurpose, with maps for driving, walking, cycling and boating built in. For out-doorsy types, there's a shaded digital elevation map option, and a…
Smartphone blog TamsPPC say they received an email from Palm regarding developer submissions for two devices codenamed Zeppelin and Skywriter.They suggest the Skywriter could be a Palm 500-style device with WinMo 6.1, and they posted possible mockup of what appears to be a dev unit. There were no facts provided about…
Firefox has just hit 500 million downloads worldwide; it is an impressive statistic and we think everyone who works on the project should get a pat on the back. As if their contribution in creating a kick-ass browser was not enough to the world, the Mozilla team is celebrating by raising funds for 500 million grains…
Samsung's just announced the availability of their tiny quarter-sized WEP500 Bluetooth headset for the US. It's definitely small—weighs less than 9 grams and is the size of about a quarter—but suffers in low battery life because of it. 3.5 hours talk time and 80 hours standby time isn't fantastic, but it does have 2…
These leaked Treo 500 ad shots from Alles Windows Mobile confirm the two-color rumor we posted about earlier. The two colors are grey/charcoal black and white, but the white one has its keyboard censored out for some reason. These are the best shots we've gotten so far, so drink them in, Treo fans. [AllesWindowsMobile]
Nokia has just unveiled their new in-car GPS navigation system, the 500. The large 4.3-inch display makes it more readable than the previous 330 system, and offers a few more features too. As you would expect, it integrates well with cellphones—you get Bluetooth handsfree and access to your phone contacts, and can…
Still intrigued by Palm's ode to TV's most famous mobster/family man? Then we've got some Palm Gandolf details for you.