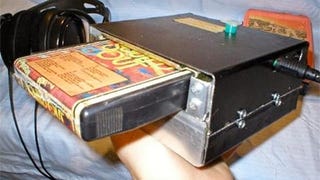 Sure, a portable 8-track walkman is a completely ludicrous idea, but you've gotta love that someone went through the effort to actually make one. It's far from pocket-sized, but it's probably the most portable 8-track player ever. [Instructables via Make]
How's this for lucky timing! In the midst of our Gizmodo '79 theme week, legendary power-pop act Cheap Trick is releasing their latest album (coincidentally entitled The Latest) on a very late-'70s medium: 8-track cassette.
The 2-XL was an interactive educational robot (by interactive, we mean it had four buttons: question, yes/true, no/false, and "more info) from the late '70s that used different 8-track tapes for its different functions. Basically, it was just a talking 8-track deck, and the four buttons just selected different tracks.
SSD, Smesh Smesh Dee. Here's my visual tribute to magnetic tape, the storage medium that can be measured in MBytes, minutes and meters.
Last week we admired the technically and artistically gorgeous Gameboy Exploded shirt. This week, we see even more of our favorite retro technologies anatomically explored in t-shirt form.