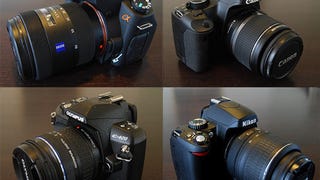 By now you've probably seen our Battlemodo between the four hottest entry-level DSLRs on the market—the Canon EOS Digital Rebel XSi, the Sony Alpha a350, the Nikon D60 and the Olympus E-420. With 91 good-sized comments (and counting), there were obviously some issues raised that merited further investigation. Here are…
This month, four eagerly awaited cameras all hit the market with a big ole thud: Canon's EOS Digital Rebel XSi, Sony's Alpha a350, Nikon's D60 and Olympus' E-420. They are not all evenly matched on paper, as you will see, and they certainly vary in price. But what's different about them, really? They are all aimed at…
The big shebang on Sony's latest entry-level DSLRs, the a300 and a350, is their two-way tilt-y live view. Pogueman takes a peek today and really digs it: "Live View on existing cameras is slow, noisy and deeply confusing" but on the a300 it's "a completely different experience."
Confirmed: The Sony Alpha 350 is perfect for crotch-shots, limited only by the LCD's viewing angle, which is good, but not great. They weirdly didn't have the A300, but the A350 is the exact same, except for MP count—even the Sony rep said so. I'm honestly not too big on the body otherwise—too many buttons on…
Sony is officially the last one to the PMA DSLR party, getting real with the A300 and A350 DSLRs we glimpsed earlier. The entry-level 10.2MP A300 (same CCD sensor as the A200, $800 w/lens) snaps away at "about 3fps," 100-3200 ISO, built-in image stabilization (vs. Nikon and Canon's lens approach) and indeed sports…
PMA 2008 DSLR leaks abound today. In addition to the cluster bomb of point-and-shoots dropped on us earlier this week, a Dyxum forum member turns up supposed full frontals of a pair of yet-to-officially exist Sony DSLRs, the A300 (previously peaked with its twisty, turny LCD for live view) and A350 from SonyStyle.