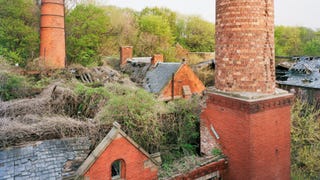 Surrounding the bustling island of Manhattan are countless lesser-known landforms. One of the most unique is North Brother Island. Sitting in the East River between the Bronx and Rikers Island, this unassuming chunk of land once housed a hospital where the city quarantined sick patients.
New York City's North Brother Island has lived many past lives, as a shipwreck site, a smallpox clinic, a tuberculosis colony, and a drug rehab facility, for starters. The 20-acre island, which sits between the Bronx and Riker's Island, has been abandoned since the 1970s. But two architecture students are hoping to…
There's something eerily enticing about abandoned spaces. Stages of Decay is no exception—it's collection of photographs by Julia Solis of once-glitzy theaters that have fallen into disrepair.