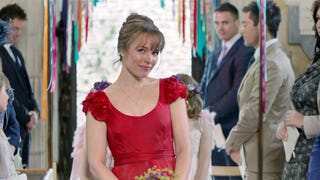 There have been lots of romance movies where time is warped, looped or frappéd — from Groundhog Day to Time Traveler's Wife. But in the new movie About Time, from Richard Curtis (Notting Hill), the dude has total control over his time-journeys, which means that everything goes pretty smoothly for him. Yawn.
Rachel McAdams was the female lead in the movies The Time Traveler's Wife and Midnight in Paris, and now she's co-starring in Richard Curtis' new movie About Time. In all three films, the dude takes off time-traveling, leaving McAdams behind. So McAdams, quite rightly, is wondering when it's her turn.
Screenwriter Richard Curtis — who directed Love Actually and penned the beautiful and heartbreaking Doctor Who episode "Vincent and the Doctor," Notting Hill, and Four Weddings and A Funeral — is finally giving us more science fiction. Curtis is currently writing (and planning to direct) his own time-travel feature…
Do you make lists for everything? Color coordinate your tupperware according to food groups? Plan what you're going to wear weeks in advance? Chances are you'll probably love About-Time, the Venn Diagram clock.