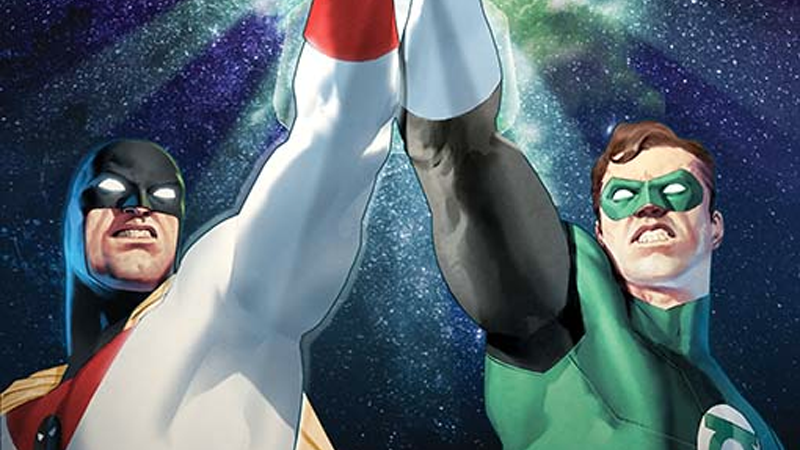 DC's crossover game is strong lately. Not only have we got stuff like Justice League/Power Rangers on the way, along with the next Batman/TMNT crossover, the company has now announced that several of its weird (and very wonderful) comic takes on Hanna-Barbera characters will now host a series of team-ups with DC's own…
Fresh from spending twelve weeks reworking SF hero Adam Strange in DC Comics' oversized Wednesday Comics series, comic god Paul Pope takes on another sci-fi classic on his blog: Frank Herbert's Dune. Click through for more goodness.
Comicsdestroyer Paul Pope is a true renaissance man, visiting SDCC this year as a DJ instead of just cartooning genius. We talked to him about DJing, music, comics, "pure" fantasy and why kids need new heroes.
Want to relive the Sunday comics of your youth but with better writing and art? DC Comics' newly-announced weekly Wednesday Comics will give you that chances... and also introduce you to some amazing creators.
Sure, teleportation sounds like a good idea, but just remember: it always goes wrong. It's hard to believe a process that involves ripping your molecules apart and then jamming them together thousands of miles away could possibly have any safety risks, but there you are. Sometimes the copy isn't quite as good as the…
It's somewhat of a catching-your-breath week at the comic store, following on from the holiday weekend and last week's barrage of DC books. That's not to say that there are fewer books making their way to stores on Thursday — that holiday Monday knocking the regular release date forward a day, unless you're Canadian,…