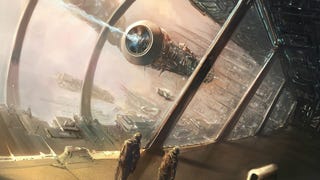 io9 is proud to present fiction from Lightspeed Magazine. Once a month, we'll be featuring a story from Lightspeed's current issue. This month's selection is " My Wife Hates Time Travel " by Adam-Troy Castro. Enjoy!
Adam-Troy Castro rocked our world with his Andrea Cort novels and stories (and later today, we're republishing a story of his that just appeared in Lightspeed Magazine.) So we were thrilled to see that he's written a children's book, Gustav Gloom and the People Taker. It's the story of a weird little boy living in a…
War and Space: Recent Combat, from editors Rich Horton and Sean Wallace is possibly one of the finest anthologies that I've ever come across. This anthology looks at the nature of war, and how it might impact our future civilizations in space. Fans of high-octane stories with lots of action might be let down by the…
The Third Claw Of God, the second novel in Adam-Troy Castro's Andrea Cort novels, confirms this series really is something special: the story of a hard-assed former child war criminal who flies around the galaxy solving crimes committed in exotic megastructures. But it's even better than that sounds. Spoilers ahead!
I was incredibly excited when I saw that Adam-Troy Castro, one of my favorite short-story writers, had finally published a novel. And Emissaries From The Dead is as great as I'd hoped, a noirish murder mystery set inside an artificial environment created by A.I.s for some unknown purpose. As with the best detective…