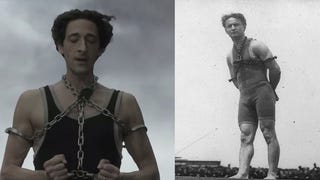 Adrien Brody transforms into the early 20th century escape artist Harry Houdini for the History Channel miniseries Houdini. Known for his ability to escape chains, locks, and upside-down boxes filled with water, Houdini was legend — let's just hope this miniseries lives up to the artist's reputation.
We've been waiting for news on this film forever, and finally the trailer has been released. The Experiment recreates the infamous Stanford prison experiment in 1971, documenting what happens when college students are transformed into prisoners and prison guards.
There's been a lot of speculation as to whether or not Adrien Brody can fill in the giant combat boots of his Predator predecessor, Arnold Schwarzenegger. Check out the latest behind-the-scenes video about Brody's character: Royce, the shirtless mercenary.
We rooted through pages of concept art and studied the brand new Predators trailer shot for shot, to try and uncover all the secrets and nods inside Robert Rodriguez's new Predators film. Check out the weird creatures we spotted.
Robert Rodriguez is busy relaunching the Predator franchise with an intense monster-movie feel, and our first set pics give us a few ideas what this alien world will look like. Plus director Antal addresses the "Adrien is no Arnie" issue.
A few new stills have come out from Vincenzo Natali's Splice, showing you the scary results of mixing human and animal DNA. Plus the Splice baby may have something in common with alien sitcom star Alf.
Here's a fun game you can play at home: How many lab-safety regulations do Adrien Brody and Sarah Polley violate in this first clip from the gene-splicing movie Splice? And meet their baby human/animal hybrid, under un-controlled conditions. Spoilers below.
Feast your eyes on some new Splice stills, and see what happens when Adrien Brody and Guillermo del Toro play God.