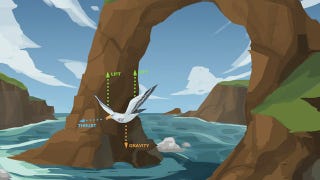 If you grew up watching Bill Nye, or just love anything that combines education with entertainment, you can fund Nye's latest project, a video game that teaches players about the physics of flight. Also on the crowdfunding table this week is the long-anticipated Showrunners documentary and a poster featuring all the…
Just two weeks after Aero opened up shop, a few broadcast TV networks are already trying get the cloud-based TV service shut down in the courts. ABC, PBS, and Univision are amongst a group of companies suing to prevent Aereo from letting you capture the airwaves.
It may not be available in the US, but American car company Ford looked to Nestlé's Aero chocolate bar for inspiration when designing their new ultra-light plastic for their cars. Hoping to make a lighter plastic for better handling and accelerating, but not compromising its strength and durability, they examined the…
Dell's been touting the world's lightest Android phone since March, and today the little guy is officially hits the scene for $100 with a 2-year AT&T contract. Too bad its operating system is over a year behind.
The remaining details of Dell Streak's release continue to trickle out. This morning we learned it would eventually run Froyo. Now we know the price: $299 with a 2 year AT&T contract or $549 unlocked. Updated
The Standivarius Aero weighs a light 135 grams and takes about two seconds to set up. That means that there's no excuse to not slip the slender laptop stand into your travel bag and have a comfortable mobile office setup.
A judge has ruled that a trial against Microsoft can proceed to decide whether they misled people with their "Vista Capable" advertising campaign. Two PC buyers have started a class action, and are arguing that they bought machines that weren't capable of running Aero, even though they were marked as "Vista Capable."

I've complained for months that Vista hogs battery life. Yet whenever I would look a laptop product rep in the eye and ask (most recently, HP and Gateway), I'd get a blank stare that says, "We can't really tell you." Now, the courageous folks at ZDNet have confirmation from inside HP. The Aero Glass interface is,…
Despite claims that you need a pretty high-end PC to run Vista well, J2s site came up with a system that runs Vista with Aero Glass enabled for only $538 (not counting the price of Vista itself).
If you're an owner of a non-Nano iPod (or a non iPod owner), you're probably looking forward to Nike's Speed+ iPod-replacing watch to save you the trouble of buying another iPod. In addition to Speed+, Nike has three other watches to compliment, not replace, the iPod Nano.