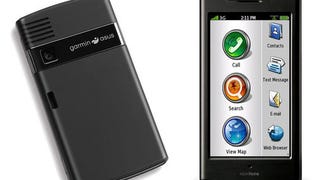 Garmin, which has been fairly frank about how totally, like, hard it is to make a new smartphone, has finally announced they'll be shipping the Nuvifone S60 to Taiwan on the 27th. It only took the—wait, 19 months?
Starting next week, Dell Mini 10 netbooks will get a new geolocation option—and not just to foil bad guys. It's a proper A-GPS+Wi-Fi system, complete with CoPilot navigation software and network location services from SkyHook.
Sagem Orga, in partnership with BlueSky is targeting the array of cellphones (and presumably mobile-internet enabled PCs and such) that currently don't have GPS with this new invention: a SIM card with AGPS aboard. Clever stuff indeed, packing all the chips for a "highly accurate GPS receiver", wiring and antenna into…
This strangeness is a leaked photo of an upcoming Nokia handset, dubbed "Wahoo" internally, and we can't decide if it reminds us more of Motorola's aging RAZR range or the BlackBerry Kickstart. It's got a half-QWERTY keypad, is quad-band and UMTS/HSDPA, has an internal and external display, 2-megapixel camera with…
BoyGeniusReports has got hold of some imagery and specs for an upcoming LG slider phone, the Xenon. It's a side-slider with QWERTY keypad, quad-band GSM and UMTS/HSPDA. It's only got a 3-megapixel cam, so it's no Viewty or KC910 but it does pack in AGPS, an accelerometer and proximity detector.
Sony's just come up with the official word on its new G705 slider handset, and it's not a bad looking gizmo at all. There's a 2.4 inch TFT with auto-rotation, A-GPS, DLNA, quad-band GSM and AGPS, Bluetooth 2.0, FM radio, 3.2-megapixel camera with flash and a Java-based OS. The phone's also got a full HTML browser,…
After yesterday's dribble of info, Nokia's upcoming N79 and N85 are official now, and do indeed carry WCDMA support for US 3G goodness. The N79 has a 2.4-inch screen, 5-megapixel camera and comes with a 4GB microSD card in the box for storage, while the N85 has a 2.6-inch OLED screen, 5-megapixel cam and 8GB of…
The Gadget: Startup Zoombak is offering two new GPS-enabled trackers that use GSM cellular networks to report their whereabouts. One is for pets, intended to be worn in a nylon pouch on the collar of your dog (or large cat?). The other is for cars, so you can keep tabs on your teenager, at least until they wonder what…