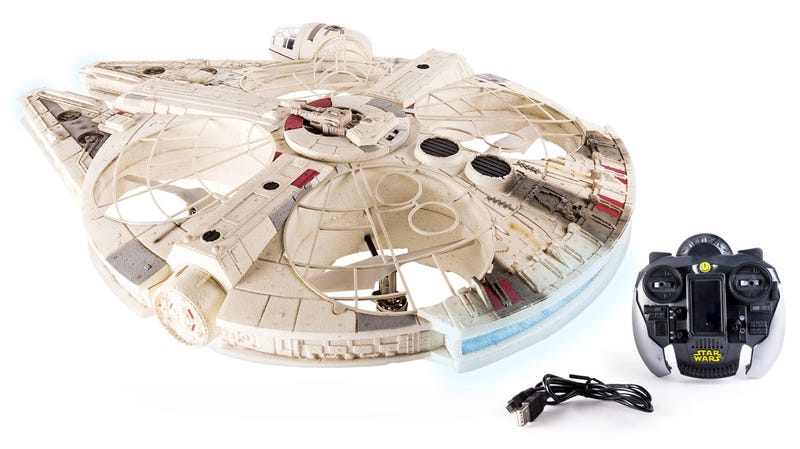 Air Hogs' drones might not be as capable or maneuverable as those from companies like DJI and even GoPro now, but they're incredibly easy for the average consumer to fly. And, more importantly, they're available in versions that look like famous sci-fi spaceships, including this giant new flying Millennium Falcon.
We've brought you lots of custom-built X-Wing and Millennium Falcon drones, but for those of who don't know the difference between a servo and a Dremel, these new flying toys from Air Hogs will let you easily fly a couple of classic Star Wars spaceships.
Borrowing a neat trick from the Bell Boeing V-22 Osprey, Spin Master has created a new RC plane that's able to take off and land vertically at the push of a button. The Air Hogs Fury Jump Jet's wings and rotors both rotate to point up, essentially turning the plane into a helicopter that can hover in mid-air.
There are plenty of quadcopters out there that you can buy if you want, but they tend to have one or more of the following downsides: They are expensive. They are fragile. They are difficult to fly. Just one can be a bummer, any pair is twice the drag, and all three just all out sucks. The pair of Arial tricksters…
Further proof that every generation of kids has it better than the last, Air Hogs new Hover Assault means youngsters no longer have to choose between an RC car or an RC helicopter. Because this is both, and manages to somehow up the awesome even further with a set of remotely fired missiles.
The only thing better than one RC toy, is two RC toys pitted against each other in battle. But if you're a kid lacking in the friends department, Air Hogs new Battle Tracker lets you go toe-to-toe with a robot turret that tracks your chopper and fires back.