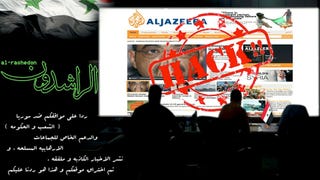 There are hacks, and then there are hacks. After this morning's apparent Apple UDID dump, Al-Jazeera's English website has been defaced in about the most conspicuous way possible. But who's responsible?
Al Jazeera already has a live streaming app available for Android, but a new full featured Al Jazeera English app has hit the Android Market and includes all the content from the website, breaking news alerts, free live video of their broadcast and the ability to send your media to Al Jazeera. Free. [Android Market]
The situation in Egypt is developing by the minute, and unless you're glued to your computer it's pretty much impossible to keep up. The Al Jazeera English iPhone app offers a free, high-quality stream of their live coverage.