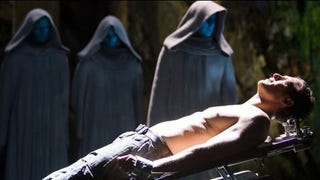 Strap us in and color us blue with excitement: the first stills from Syfy's adaptation of Philip José Farmer's Riverworld series are out. They're full of shirtlessness, cleavage and blue Alan Cumming. Pop in your dreamgum, and check them out.
The identities of Mary Jane Watson and Norman Osborn's Broadway incarnations has been revealed, and fans of Marvel's movies may find the actor behind the latest Green Goblin slightly familiar... well, if they can imagine the blue fur for themselves.
U2-scored Spider-Man musical Turn Off The Dark is reportedly courting Alan Cumming as the Green Goblin. Cummings wants $15,000 and two virgins per week. That's okay; director Julie Taymor's "unfamiliar with the word 'budget.'"
Watching Alan Cumming unzip his head of cutsey braids as the "Scarecrow" in the SciFi Channel's Tin Man last night reminded me of another role he played as Nightcrawler, the crazy blue mutant from X-Men 2 . . . and another role as a freaky god named Loki in Son of the Mask. He's always this ambiguously gay elfish…