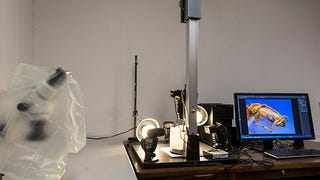 "The worst enemies of ants are often other ants," writes entomologist-cum-photographer Alex Wild. And what brutally savage enemies they are.
From entomologist, blogger and insect photographer Alex Wild comes this remarkable image of a trapjaw ant, torn asunder to reveal the wriggling, 8-inch parasitic worm living inside. (The ant, by comparison, measures about half an inch long.)
Entomologist and insect photographer Alex Wild has captured a gorgeous image of this Greta oto, or glasswing butterfly, in Belize (click to enlarge). You can see the color of the flowers perfectly through its wings. Though it looks like an alien or mutant, the glasswing is perfectly natural. Most butterflies have…
Are you a fan of embiggened bugs? Alex Wild — master of ceremonies over at Myrmecos — has just posted over 600 of his best photographs from 2011, and it is one of the most jaw-dropping collections of insect macrophotography we've ever seen. Click through to check it out — you won't be disappointed.
Sometimes it's easy to make a mistake when picking a photo of an animal — presenting an image of a rat instead of a mouse, for example. Or mistaking a crane fly for a mosquito. But whoever made this missing cat poster has taken the crown for animal mis-classification.