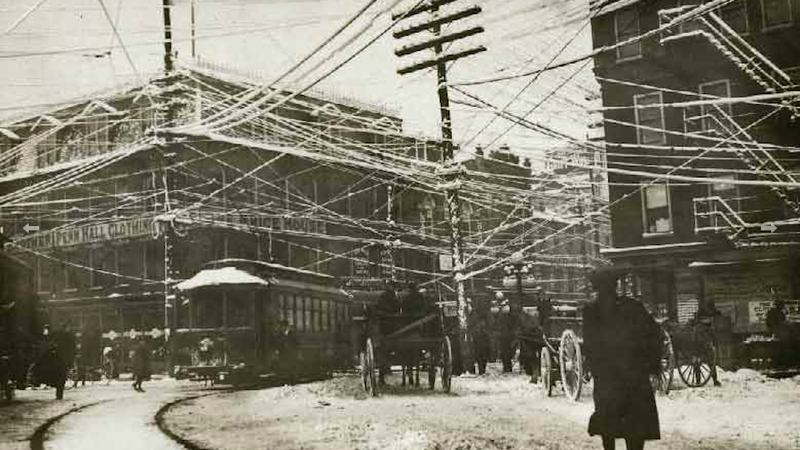 Alexander Graham Bell may have invented the telephone in 1875, but the first phone installation didn't come about for another three years. And that's what makes these photos from 1887 so incredible; this tangled mass of telephone wires had already wound itself around New York City's streets just seven years after that…
In 1899, the inventor of the telephone set out to solve another problem: The airplane. He failed miserably. Really, really miserably. But this summer, a team of architects and engineers have resurrected his 106-year-old design for a flying machine for a very different purpose: As a model for floating, solar-powered…
It's not often you get to hear with the 19th century sounded like, but thanks to 3D scanning and old wax cylinders, it's possible. And now, for the very first time, we know what Alexander Graham Bell, inventor of the all-important telephone, might have sounded like when he made that historic call.
National Geographic has launched a new Tumblr, called Found, which showcases some of the most weird and wonderful shots from the magazine's archive—and it has some amazing photographs online already.
Crowdfunding websites like Kickstarter and Indiegogo are great for bands trying to finance an album or independent filmmakers hoping to shoot a movie. But it's interesting to see these alternative finance tools being used more and more for projects that are often associated with large public institutions — namely,…
Alexander Graham Bell, father of the telephone, was also a huge fan of tetrahedrals—building everything from boats to planes out of the pyramid-shaped structures. This massive kite—built by the Queen and Crawford design house—brings Bell's tetrahedral ideals into the 21st Century.
The ostensible topic of Seth Shulman's new book, The Telephone Gambit, is how Alexander Graham Bell cheated his way into owning the phone patent. Apparently Bell copied research from his chief rival for the lucrative patent, Elisha Gray. This revelation isn't particularly stunning in our era of patent litigation and…