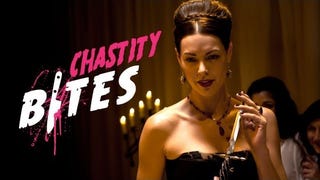 Having Warehouse 13 withdrawal symptoms? The new movie Chastity Bites, coming to DVD on Feb. 11, could seriously help. Allison Scagliotti, aka Claudia, stars as a girl who discovers her local abstinence educator is actually the immortal Elizabeth Bathory, who bathes in virgin blood.
We lost a beloved member of the Warehouse 13 family last year — Leena died at the hands of a possessed Artie. Assuming Artie even survives, how is this going to affect him? And the team? Can Leena come back, like Steve Jinks did? We asked stars Eddie McClintock and Allison Scagliotti, plus showrunner Jack Kenny.
Last night's season premiere of Warehouse 13 reminded us why we're glad Warehouse is Syfy's biggest success story right now. It's got heart. It's full of hope for our strange world. And it's in love with science fiction. Spoilers ahead...
We've been dreaming of a Syfy shared universe for a long time, and it looks like those wishes haven't fallen on deaf ears. Syfy is finally delivering Warehouse 13 and Eureka crossover episodes. But which characters get to go?
Warehouse 13, Syfy's new show about the building that houses every mystical object of power in the world, only just introduced its main characters — but soon we'll be meeting another new character, an 18-year-old girl with super-hacker skills. Spoilers...