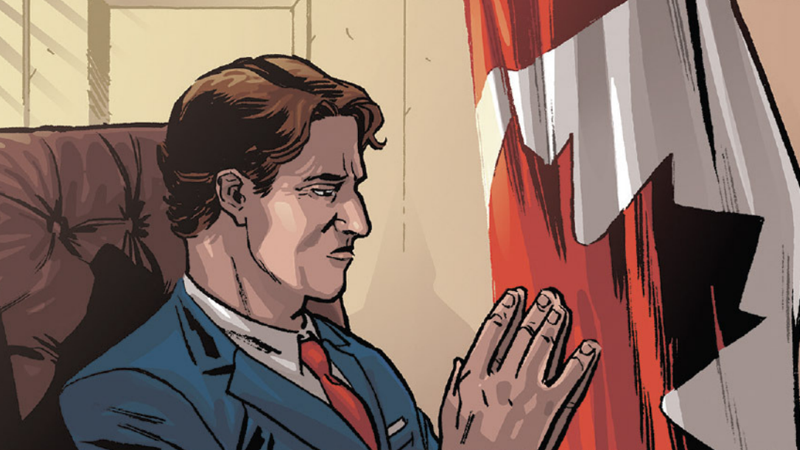 Whose side is Justin Trudeau on in Civil War II? Is the Prime Minister of Canada, making his comic book debut today in Civil War II: Choosing Sides #5, Team Tony or Team Carol? Turns out, he's neither. He's Team Justin Trudeau Doesn't Give a Shit About Your Superhero Infighting Nonsense.

This weekend, Wolverine slashes his way into movie theaters. But he's not the only X-Men character who deserves a separate movie. In fact, at Comic Con, Bryan Singer suggested the X-Men universe could spawn as many movie franchises as the rest of the Marvel universe. Here are 11 X-Men spin-offs that would make awesome…
Who's Canada's ultimate superhero? Guardian? Puck? Captain Canuck? This essay from The Walrus argues that Scott Pilgrim (and Michael Cera) embody the "Canadian sane man comic book superhero." They represent Canada's national status as an understated outsider. [Spotted on Metafilter]
At the blog The Brave and The Bold: The Lost Issues, blogmaster Ross teams Batman up with absolutely everybody, copyright be damned. Check out the never-was issues of The Brave and The Bold, guest-starring Alpha Flight, Deathlok, and KISS!
If you're like me, you probably have an old, broken-down NES somewhere in your house, gathering dust while you try to decide whether you should keep it for nostalgia's sake. How about turning it into a lunchbox, which will allow you to bring those warm early gaming memories with you to work or school every day?…