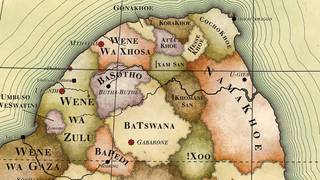 A map created by Swedish artist Nikolaj Cyon shows what Africa would have looked like had it not been colonized by Europeans. Shown upside down to skew the Eurocentric bias, it was compiled using historical, linguistic, and ethnographic data.
Today sees the release of Scott Westerfeld's and Keith Thompson's long-awaited third book in the Leviathan trilogy, Goliath. And we can't wait for a third dose of alternate-history World War I, with all the mechs and genetically engineered airships. (And to celebrate, here's a lovely new piece of artwork. Check out…
The New York Times has a review of a fascinating new book, Then Everything Changed: Stunning Alternate Histories of American Politics: JFK, RFK, Carter, Ford, Reagan by Jeff Greenfield. It shows just how easily things could have veered another way.
Another great moment in Rutger Hauer history is Fatherland, the TV movie version of the novel about an alternate history where Germany won World War II. Yep, Tarantino's not the first to create a cinematic alternate World War II.