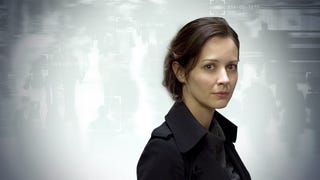 Person of Interest just ended its fall season with a hell of a cliffhanger. What happens next? We won't know until January 6, when the next episode airs. But Amy Acker, who plays Root, tells us that episode was their most challenging to film. And she also tells us the big question that lies beneath the show's fourth…
The new season of Person of Interest plunged us into a dystopian A.I.-monitored world. And all of a sudden, Root is the linchpin of everything, as she helps the undercover Machine Gang. We talked to Amy Acker about Root's new role, her flirtation with Shaw, and whether Root will be meeting Samaritan's right-hand woman…
Person of Interest returns tonight with an even scarier look at ubiquitous surveillance than before. The Electronic Frontier Foundation's Dave Maass is fascinated by the show's themes — so he seized the chance to interview the creators and stars. And they told him why we should be very afraid.
Person of Interest has been dealing with some heavy themes lately — determinism, artificial intelligence, surveillance, posthumanity — and the hacker known as Root has been at the center of all of them. We talked to Amy Acker, who plays Root, and she told us what to expect from Root's continuing evolution.
Here's your first official look at James Marsters in Caprica, and he looks... well, just like James Marsters always does. (Full image at EW.) Does anybody still care about science-fiction stunt casting at this point?
After we asked whether Sarah Connor's good luck was Joss Whedon's bad, Dollhouse star Amy Acker appeared to tell us that everything was coming along exactly on schedule. So why does the show have such a bad rap? And will we see the first episode on schedule at the start of next year?Talking to SciFi Wire, Acker was…
Click to view Yes, the television industry may be somewhat incestuous, but that's a good thing - if you're Amy Acker, at least. The Angel, Alias and Justice League Unlimited veteran has been talking about how she owes her latest role to her best friend... who just happens to go by the name Joss Whedon.Talking to SciFi…
Actress Amy Acker, who appeared as the nerdy Fred in Joss Whedon's vampire-detective show Angel, will join Whedon again in his latest TV show, the futuristic Dollhouse. Acker will play Dr. Claire Saunders, who takes care of the amnesiac "dolls" who can be programmed for any mission or assignment by clients who hire…