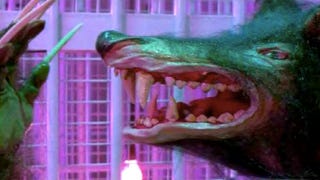 For every birthday-suit shapeshifter to appear on True Blood or denim-short teen wolf to pop up in the Twilight books, there are dozens of science fiction and horror narratives informing us that polymorphing into a marmoset, wombat, or whatever would legitimately suck. Here are ten squirm-inducing transformations that…
Sept 15
An American Werewolf In London: Special Edition
Army of Darkness: Screwhead Edition
Two classic horror comedies, two re-releases. If you're forced to choose between the two, go for Werewolf; Darkness is more of a straight re-release.
Twenty-eight years after it was released, John Landis's classic An American Werewolf in London is coming to Blu-ray and the director was commemorating this cleaned-up version by showing it at FrightFest in the UK last night.
Is John Landis' An American Werewolf In London about to be remade, or is there something more international afoot? Competing rumors are coming out that suggest that, one way or another, the classic is on its way back.