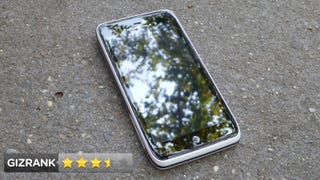 The original Motorola Atrix was a big star of CES 2011. Despite the fact that it morphed into the world's worst laptop, the phone itself actually held its own. Now, the Atrix is back. The gimmicks are gone, and what's left is a solid, affordable phone with a sharp HD screen and a speedy OS. Is the new Atrix about to…
Remember when the Droid Bionic was the best Android phone on Verizon? Poor Bionic: A month and a half goes by and here comes Droid RAZR, which is similar to the Bionic, but better in virtually every way.
The Galaxy S II we've fawned over has finally arrived on Sprint as the Epic Touch 4G with a bigger, 4.52-inch screen. Long story short: It's the best Android phone you can buy.
The original Droid was the phone that put Android on the map. Two sequels later, here we are with the Droid 3. But is it more The Dark Knight Rises or Spiderman 3?
The original Evo 4G was a beautiful, throbbing monster. A huge screen, powerful guts, and features spilling out of its belt. Now what could make a giant mecha-Android better? Adding 3D powers, right? Wrong. Very, very wrong.