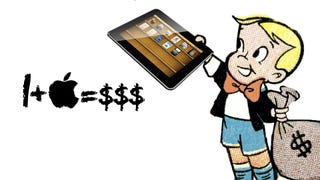 At least someone made money today. Apple reported earnings of $8.2 billion on $36 billion in sales today, buoyed by strong acceptance of the iPhone 5 and the total lack of public interest in any tablet that's not an iPad.
During Apple's call today to discuss its monster earnings last quarter, CEO Tim Cook was asked his opinion on Windows 8. He said all of the expected things about how the iPad has unlimited potential, but also weighed in on tablet-PC hybrid devices with this little bon mot:
Apple just set company records for net income ($13.06 billion) and revenue ($46.33 billion), thanks in large part to selling as many iPhones as there are people in California. Oh, and nearly half as many iPads, too. All of which contributed nicely to the $97 billion of cash and securities the company's sitting on. I…
The last time Steve Jobs got on an earnings call, it was to reassure investors that he was in good health. So what made him spend an hour taking questions today? Here's what Jobs said, and what it means.