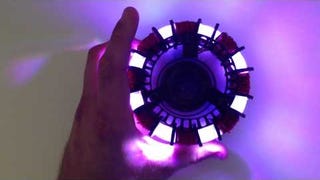 Like Tony Stark, Eddie Zarick is a bit of an inventor. And like Tony Stark, Zarick had a Pepper Potts in his life he wanted to lock down. So like Tony Stark, Zarick built himself a mini-Arc Reactor, but instead of sticking it in his chest to use its electromagnetic properties to keep shrapnel from slowly tearing its…
Eddie Zarick is a clever man. First, he has a girlfriend who is a comic book nerd and loves Iron Man ("She always calls me Tony Stark for all of the projects I have going," he says). Second, he can make stuff like this cool motorized Iron Man arc reactor, which opens to reveal a proposal ring.
Somewhere, in a market brimming with plastic arc reactors and cologne bottles, there is a gap just waiting to be exploited. Custom-sneakers people Diversitile seized that opportunity and will be selling these Iron Man Nikes very, very soon.
Sure, you've been able to buy cheap plastic arc reactors for a while, but this is the real-deal Mark I "Hero" reactor from the actual movie. And it's just one of a boatload of props and costumes up for auction.
This Arc Reactor is just a replica, so it won't allow you to power a bionic suit that flies around and punches through walls. It will, however, make your desk that much more dorky. And that's something. [Museum Replicas]
No wonder Tony Stark managed to do an arc reactor in a desert cave. According to this tutorial, you really only need some LEDs, a 9-volt battery, plywood, 22 AWG gauge copper wire, assorted resistors, and a substance called polymorph—which can be made into any shape—to create your very own virtually-unlimited power…