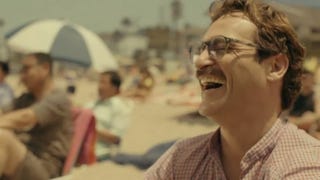 William Butler and Owen Pallett of Arcade Fire are getting a lot of attention for the melodious score they created for Spike Jonze's Her, and not just because it landed them an Oscar nomination, but simply because it's gosh-darn gorgeous. And now you can listen to the entire 13-song soundtrack here and now.
Remember The Suburbs, the totalitarian-urban-sprawl music video collaboration between Being John Malkovich's Spike Jonze and indie darlings Arcade Fire? Now you can watch a much longer companion piece, Scenes from the Suburbs. Growing up sucks in a police state.
Arcade Fire's album The Suburbs won top honors at the Grammys last night, cementing its reputation as one of the best modern examples of dystopian rock. You can see the science fictional underpinnings of the album's themes in the Spike Jonze-directed video for single "The Suburbs," and many of the other songs on the…
At first, it might look like a bad memory from a late-90s porn misclick—a flurry of browser windows filling your screen. But a new collaboration between Google and Arcade Fire is looking to the future, showcasing HTML5's power.