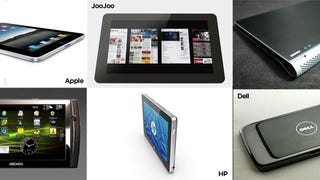 Everybody's talking about tablets, especially those single-pane capacitive touchscreen ones more specifically known as "slates." The iPad is the biggest newsmaker, but there are lots headed our way (most with built-in webcams). Here's how they measure up, spec-wise:
Archos' first Android tablet, the Archos 5, didn't quite live up to its promises,but a second leaked Android tablet from the French could prove more feature-some if realized, with a front-facing webcam and new 7-inch size.
The Gadget: Archos 5, the touchscreen "internet media tablet" with HD video viewing, game support and web surfing, is poised to take on the comparatively puny-in-screen, puny-in-storage iPod touch.