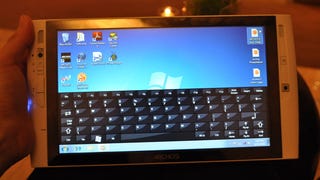 We're probably not going to see an Apple tablet tomorrow, but the Archos 9 could hold us over. The "netblet" (yea, my portmanteau of the words netbook and tablet) runs Windows 7, but I'm not sure I'd shell out $500.
We already knew pretty much everything about the Archos9 tablet netbook running Windows 7, but with nobody sure what kind of touchscreen the thing uses, we're left to wonder if we'd want anything to do with a resistive-touchscreen tablet.
The Archos 9 Windows 7 touch tablet has made it through its first round of show floor pageantry, briefly falling into the the expectant hands of the guy(s) from ArchosFans. The mildly romantic encounter was captured on video, for posterity.
Although we have yet to hear anything about an Android MID from their event today, Archos has announced the Archos9—a UMPC that runs Windows 7.