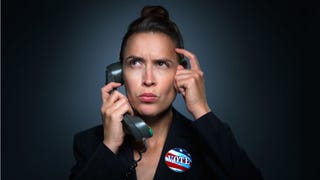 It's that time of year guys, when every politician under the sun has a robot call your house at prime eating time to encourage you to vote, or ask for money, or poll your feelings on Soccer Mom v Rotting Squash. At least this has been the case for many people in our fine nation of fifty states. But Arkansas likes to…
As usual, Taiwan's Next Media Animation has brought its A-game to its coverage of the Arkansas and Louisiana black bird deaths. In NMA's hands, this mystery's become a perplexing video collage featuring a cigarette-smoking cat and a military dog.
After 5,000 dead black birds fell out of the sky over Beebe, Arkansas, 100,000 (likely diseased) drum fish washed up along 20 miles of the Arkansas River this weekend. Conspiracy theorists, now is your time to shine.
Are idiot cops with tasers in some sort of competition with one another? I think the new record for stupidity belongs to Dustin Bradshaw, the Arkansas police officer who zapped and arrested a 10-year old girl for throwing a fit.
This is probably one of the scariest videos I've seen: The spread of Walmart. It may just be the slimy green, but it looks like an outbreak movie where everyone dies.
Apparently emboldened by a minor, years-old success against Apple's lawyers in Taiwan, iPod knockoff manufacturer Luxpro has decided to sue Apple, claiming that the company has monopolized the MP3 player market with a variety of unfair "schemes." Some of their arguments are somewhat compelling, namely when they bring…
For those of you who enjoy steampunk, story telling and handmade creations, I present to you Klaatu Varata Studios, the workshop of Arkansas artist Dillon Chandler. Check out his Solarian Ray Gun or the Geldar Light Infantry Robot, both of which come with the back story of the Kelevion Universe and the civil war…