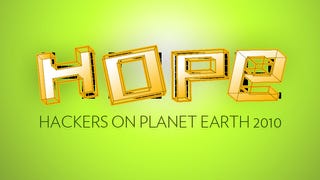 The idea began over beers. Johannes Grenzfurthner (of Monochrom) and friends wondered if the notion that porn drives technology really was true or urban myth. So, they decided, why not organize a public event and find out?
This week marks the third annual Arse Elektronika conference, an extravaganza devoted to sex, technology, futurism, and orgasmic robots. If you're in the San Francisco area October 1-4, don't miss the naughty, geeky weirdness.
Here he's looking a lot less diaperish, but the song has gotten even more cracked-out and pleasingly freakish. Anybody who can sing about nanobots and sexual positions named after Star Trek characters deserves at least one listen.
Well, pretty much every day in San Francisco is filled with scifi, tech and porn, but this weekend is special. Arse Elektronika, the notorious techno-porn event imported from pervvy Vienna, is starting tomorrow night with a bang. This year, the conference theme is "Do Androids Sleep with Electric Sheep?" I'll be a…
Dash over at Fleshbot's got a very interesting look at Ars Elektronika in SF, where inventors and teledildonics fanatics gather together to show off the weird, gadgety and sexy things they made in their sex dungeons. One invention is a vibrator that's connected to the U.S. Geological Survey which only activates during…
Never encountered a real woman? Here's your chance: Moaning Lisa, who is part sex doll and part interactive game. She has seven strategically placed touch sensors—and even a couple of potentiometers on her nipples—and she can see you, too, with sensors in her eyes. Just like a real woman, the spots that get her hot…