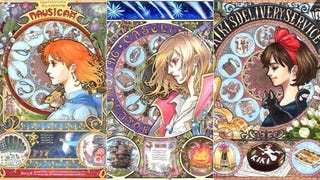 Pixiv user marlboro creates richly detailed portraits of the characters from Hayao Miyazaki's films. Each art nouveau-flavored illustration is packed with images and symbols from each movie.
Among the many material forms of Art Deco—from buildings to furniture to cars—clocks somehow seem to make the best use of the machine-age motifs that make the style so wonderful. Feverish geometric forms, mind-bending symmetry, high-contrast colors, modern and ancient materials combined with ticking mechanics and…
What if Hellboy was a silent film star, Iron Man was a World's Fair exhibit, and Galactus was in cahoots with the famed eccentric Rotwang? If any of these unlikely scenarios came to pass, they would certainly look a lot like Grégoire Guillemin's Art Deco crimefighters. Here's a sampling of his many stylish supes.
Though Tron: Legacy is only six months away, the movie's iconic light cycles seem as remotely futuristic today as they did in 1982. But this custom Henderson motorcycle, built in 1936, is basically Art Deco Tron on Earth.
Tim Warnock has provided concept artwork and designs for Watchmen and Harry Potter. Just for fun, he's created a series of stunning matte paintings that capture Bioshock's underwater city of Rapture in its glory days, all shimmering art deco.
This timepiece oozes with the same classiness found in 1930's era lighters and watches. The caliber-582 movement is so sensitive that small changes in temperature are enough to power the clock for days. [Acquire Mag]
Datamancer, who made the still-impressive Steampunk keyboard, has moved on to art deco. We cannot applaud this enough.
Jeffrey Stephenson, the man who first looked at a cigar humidor and said, "I can turn that into a PC," has made another Art Deco PC out of wood. The G-metric Nano, which will be unveiled publicly at CES this year, is the smallest enclosure Stephenson could design that contained a VIA NX15000 Nano-ITX mainboard, 1GB of…