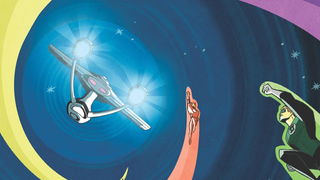 The worlds of DC and Star Trek combine this week, but it's not all that's going on in the latest new comics. Marvel goes to the Wild West in a new batch of Secret Wars miniseries, DC takes on Max himself in another Mad Max tie-in, Boy scouts take on the apocalypse, Time cops solve time crimes, and much, much, more!
DC is starting a period of big comic events off with Convergence - which launches a new weekly series and ten tie-in miniseries today. But it's not all big events this week: Mark Millar fills in the events set before Jupiter's Legacy, Boom! uncovers the history behind Sleepy Hollow's Ichabod and Abbie, and more.…
Sony Ericsson's image has been given a lift with the Aspen smartphone—which they're billing as the "latest addition to Sony Ericsson's Greenheart portfolio." But that's now what's piqued our interests—this baby's packin' Windows Mobile 6.5.3.
Danger fans Hiptop3.com have managed to get a screenshot of the Sidekick Aspen/Gekko, the company's replacement for the teen-friendly iD. It seems like the newest addition to the Sidekick family will be a cheaper option to the more upmarket LX, and will feature web browsing, a 2-megapixel camera with video capture…
It's been a while since we first heard rumors about a the Sidekick 4, but TmoNews has a scoop on two devices headed to retail in July that could fit the bill. The first is code named "SK Gekko" and will be released on July 27; the second is the "Sidekick Aspen" on July 30. No details other than the code names, so…