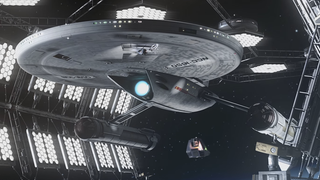 Well. Now we might know why, despite director J.J. Abrams recently claiming that we'd hear about a settlement, CBS and Paramount's lawsuit against Axanar Productions is still going on.

At last night's Star Trek fan event, the latest trailer for Star Trek Beyond wasn't the only newsworthy event: J.J. Abrams announced that Paramount Pictures' lawsuit against Axanar Productions was "going away."
Remember how CBS is suing to prevent the crowdfunded fan film Axanar from being completed? Now the channel is suing the filmmakers even harder. CBS's lawyer have submitted 28 pages of documents detailing every possible thing that they claim Axanar infringed on, alleging basically every type of copyright infringement…
Yesterday, Star Trek fans were up in arms at the news that CBS had filed a lawsuit seeking to shut down the hugely successful crowdfunded fan production Axanar, after a year of tolerating the project's development. Also surprised? Axanar producer Alec Peters, who found out about it by reading said news. Ooh err.
I've embedded the trailer, but you can watch the full 21 minute prelude to the feature length film about the first major Federation/Klingon war, staring Tony Todd, Kate Vernon, Michael Hogan, Richard Hatch, J.G. Hertzler, Gary Graham, Alec Peters & *Update* Garrett Wang on Kickstarter. If you like Star Trek you …
Fan-made Star Trek projects are 10 Federation credits a dozen. But Robert Burnett isn't just any fan — he's the director of the beloved Trek romantic comedy Free Enterprise, and now he's consulting on a movie chronicling the first Klingon war.