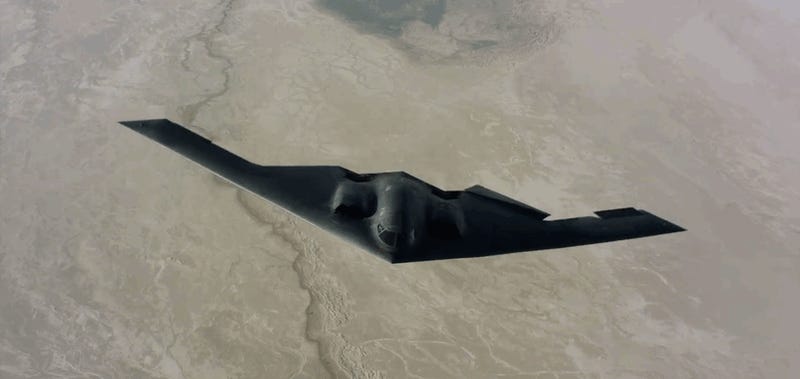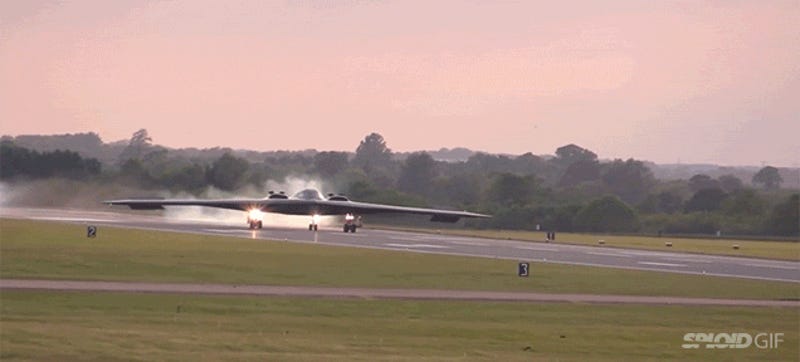 I forget how impressively thin and futuristic looking a B-2 stealth bomber is. I mean, just watch these two stealth bombers land at Royal Air Force Fairford in England, it looks like a UFO has just touched down on Earth and is ready to take over our planet. Or like a sci-fi fighter jet has hopped through a movie…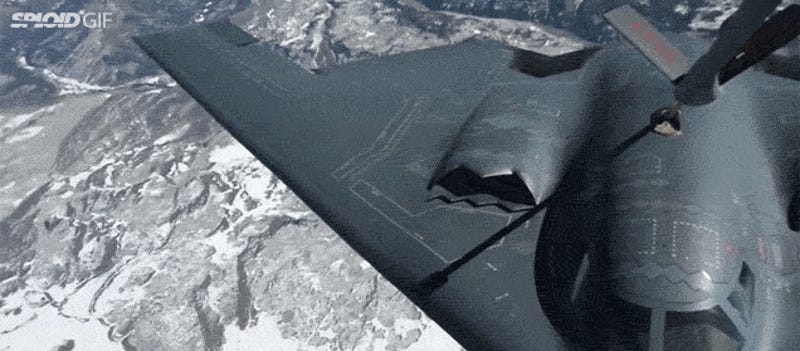 Damn, that thing really is stealth. This video shows how the B-2 stealth bomber refuels and rotates its fuel receptacle so that it can maintain its stealth. You see the receptacle in clear view when it's ready for fuel but after it's all filled up, it's gone and the whole plane is back to being undetected.
According to Reuters, North Korea has readied its rockets to attack US military bases in South Korea and the Pacific Ocean after the US made a show of force earlier today by flying stealth bombers over South Korea. Kim Jong Un had apparently signed off an order for North Korea's rockets to be "on standby for fire".
The B-2 Spirit aka Stealth Bomber has a very distintictive shape, and when you place it up against a hawk/falcon(?), you can suddenly see why. Nature has bombers of its own, and that form factor just happens to work out well for us too. But for all their similarities, I think we'd all prefer to get hit by the bird's…
Joe Pappalardo got some crisp, high quality military close-ups of the Spirit of Kansas, the $1.2 billion stealth B-2 bomber that crashed in Guam last February. We published other images of the crash scene before (because we like to see a billion dollars burning), but all the mess was cleaned up then. Here you can see…
Click to viewDo you remember the $1.2 B-2 Stealth Bomber that crashed during take-off? Well now a video has been released of the event. But let me warn you—it's really, really hard watching so much taxpayer cash wastefully go up in flames, especially when the travesty unfolds so slowly. Apparently the plane's sensors…
In 2005, a control room for the A and C subway lines in NYC caught fire. "No larger than a kitchen," the room held 600 relays, switches and circuits that keep track of trains and keep everything running. Officials originally thought it would take three to five years to get the lines back to normal capacity.…
Remember when we told you about the B-2 Stealth Bomber that crashed in Guam, turning 1.2 billion dollars of plane into a fiery wreck? Well, now we have pictures of it, and it ain't pretty. Feast your eyes on one of the most expensive accidents ever and be thankful it wasn't you who had to explain what happened to your…
A B-2 Bomber, probably the coolest aircraft ever created after the Lockheed A-12, has crashed for the first time ever. Its name was the Spirit of Kansas and it was one of the 21 $1.2 billion Northrop Grumman stealth planes ever manufactured. It fell to the ground right after take-off for "unknown reasons" at the…