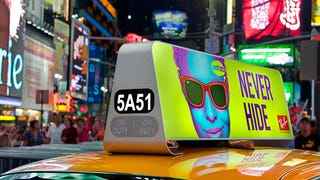 Taxi top displays, those triangular advertisements on top of NYC cabs, are getting a facelift. And even though it looks like the base of an iMac is now attached to the roof, I think it looks good. Or at least better.
Philips is working on their own ultra-thin backlighting technology. But compared to the absolutely stunning Sony ZX1 9.9mm-thin TV, the Philips 8mm 32-inch model is a) just too small and b) just a prototype. However, it looks like it uses a similar LED-in-the-corner backlighting technology. [More IFA 2008 Coverage]
Curious as to what the updated LED-backlit MacBook Pros actually look like in person? Geek Sugar has a gallery up of the upgraded laptop, complete with comparison shots with the old one.

To our eyes, there's not a huge difference, which meshes with what Apple told us about the display not being any brighter.
Remember that rumor about the 15-inch Macbooks with LED backlighting? There's been debate as to whether or not the technology is ready to ship in laptops, but the haters forget that some of the Sony Vaio notebooks shipped late last year have the same tech in them to great effect. The TX and SZ lines have em, with the…