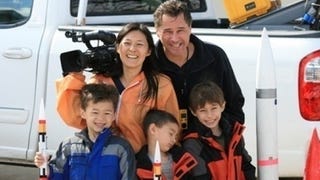 Auto-tuned science was fun, but an auto-tuned retelling of the year's more ridiculous news events such as the Balloon Boy hoax is fantastic-yet-oh-so-terrible. So fantastic-yet-oh-so-horrible, in fact, that I'm crying because I can't get the beat out of my head.
According to court records made public today, Mayumi Heene, Balloon Boy's mom, has admitted that the whole incident was orchestrated to make the Heene family more "marketable for future media interest." Nice parenting.
Many were shocked when it was revealed that Falcon Heene's fictitious balloon ride was nothing more than a fame-grabbing hoax, but this is hardly the first time that a fake tale of a high-flying balloon captured people's imaginations. In 1844, Edgar Allan Poe wrote a detailed piece about famed balloonist Monck Mason's…
Wondering why anyone would want to trick the world into thinking their 6-year-old was flying away in a gigantic party balloon? Well, it turns out that the Heenes were developing a reality show with the Wife Swap production company. And as we all know, the best way to get a deal made in Hollywood is to commandeer the…
Wonderful news! Falcon Heene has been found alive and at home. He was never in the balloon. We are overjoyed. But urge everyone with experimental science projects PLEASE — safety first. [MSNBC]
While authorities still search for Colorado's Falcon Heene, and we dearly hope he turns up unharmed, we wondered why the Heenes constructed this contraption in the first place — and uncovered Mr. Heene's attempt to prove there's life on Mars.
Police in Fort Collins, Colorado are desperately attempting to save a 6-year-old boy who floated away in a 20-foot homemade balloon. Officials are figuring out how to remove the boy, stranded in the sky, without "ripping the balloon to shreds."