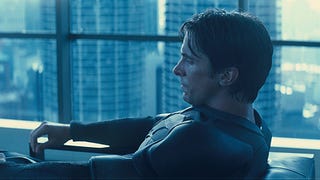 The Dark Knight succeeds as a film because it fearlessly trashes the idea of heroism, and turns hopelessness into a motivation so pyrotechnic that even torture is a kind of seduction. Nothing escapes corruption. Even the poignant anguish of loss is an emotion summarized by gleeful beatings in police stations,…
Marvel's silliest mutant will torment Wolverine in his solo movie. Deadpool is a hideously scarred assassin with a healing factor like Logan's, but he's mostly known for acting loony and being obsessed with Bea Arthur. His inclusion may actually help keep X-Men: Origins: Wolverine from trying too hard to be "grim 'n'…
Iron Man flexes with a Transformers-y attitude in this new pic. The May 2008 movie will need all the cool points it can get, with Robert Downey Jr. starring as the unpopular comic-book character. [Superhero Hype]
More news, including a Dark Knight poster and Heroes spoilers, after the jump.
The first six minutes of Christopher Nolan's new Batman: The Dark Knight were screened at an IMAX theater in New York last night, and already lengthy writeups are hitting the web. People sure are getting giddy about this one.
Batman's chest will have special bat-cups which, ummm, lift and separate his pecs. At least he's not sporting the much-criticized nipples from 1997's Batman and Robin. New Batsuit images from The Dark Knight from Uruloki, via IESB.
You'll really want to see Batman: The Dark Knight in an IMAX theater next summer, judging from this new featurette. Christopher Nolan filmed four sections of it using fancy IMAX cameras that will create a tall, sweeping canvas. Also, there's a rumor that a prequel to The Dark Knight will appear before I Am Legend in…